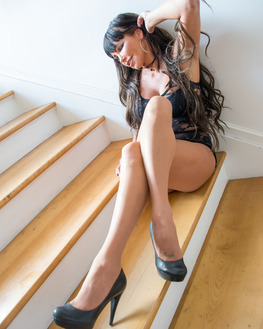 There is nothing that will ruin your look faster than an unintentional run or snag in your hosiery. Luckily, there are some things you can do to help prevent runs. Here are five tips to help prevent tears, snags, and holes from ruining your look.
1. Buy High Quality Hosiery
Like anything, the better the quality you buy, the longer your hosiery will last. Tights and pantyhose from the drugstore are made with cheap materials using poor production methods. On the other hand, the European tights from Hosieree.com are known for being made with high quality materials and are much more impervious to damage.
2. Choose The Right Size
Tights that are too small are very prone to runs. When purchasing a pair of tights, make sure to always check the size chart. Each manufacturer uses a different sizing model for their tights based on the type of fabric, denier, and overall fit. You can find the sizing on all of our products. Check out the sizing chart of the Bellissima Micro 90 Microfiber Opaque Tights for an example.
3. Be Careful When Washing Your Tights
Washing your tights incorrectly can damage the fibers and cause piling, snags, and runs. Instead, make sure to always follow the manufacturer's instructions on how to wash them. If you don't still have the manufacturer's instructions, we have some great articles on how to was your tights on our blog. Following these tips will keep your tights in great shape.
4. Pick The Right Denier For The Occasion
Denier is a measurement of thread thickness. The smaller the denier number the thinner the threads used to make the hosiery and the higher the denier, the thicker the threads. For everyday tights, where you are active, moving, and more prone to damage, choose a denier 30 or higher like the Silhouette Semi–Sheer Modeling Tights. For special occasions where you are less likely to risk a snag, go ahead and grab a more delicate pair like the Blogger 8 Ultra Sheer Pantyhose that has a denier of 8.
5. Carry Clear Nail Polish
When you wear tights, it's a good idea to have a plan in case of damage. If caught quickly, you can prevent a small hole from turning into a run. Clear nail is the easiest, most portable way to stop a run. The moment you notice a small snag, pile, or hole, simply apply the clear nail polish to the area. Clear nail polish will stop the run, while also being invisible.
These five tips will keep your hosiery in great condition, free of damage like runs and tears, and lasting a long time. At Hosieree.com, we stock only the highest quality tights that are less likely to become damaged, even our smaller denier ultra sheers. We offer a wide variety of patterns, colors, and sizes, so no matter your style, you'll always look great!