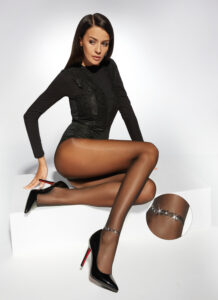 Now that we have officially entered a new year, it is time to look ahead to current and future fashionable hosiery trends we can expect for 2022. 
Openwork Patterns
With various textures, colors, and patterns to choose from, there are tons of details to keep in mind when stocking your wardrobe with hosiery options.
Openwork patterns, lace floral patterns, or a combination of openwork and vertical stripes are trending in the fashion industry. Lace pantyhose will always be a safe and timeless classic that won't go out of style. These patterns work well for formal and informal occasions and highlight femininity and refinement. 
Sheer Black Pantyhose
Sheer black pantyhose should be in every woman's wardrobe this year. It can be paired with shorts for a fun and more casual look, or it can be dressed up for a night out or work event. 
Fashion Tights
Want more variety and a little more style? Fashion tights and pantyhose are another wardrobe essential to have this year. They are considered classic and hot and mix everything we love. They can be worn to dress up a little black dress or can be worn more casually and as everyday wear. 
Embellished Options
A little sparkle and shine can go a long way. Embellished tights can prove to be the ideal styling piece when you need to dress up but don't want to go overboard. Embellished tights can easily be paired with a little black dress or a pair of cute tailored shorts. 
Make a Statement
Finally, you can also use hosiery to make a statement. Bold colors, bright colors, and patterns are great for dressing up an outfit and making a statement. A Rox Geometric pattern is great for complimenting a more casual outfit. For more funky color choices, consider Trasparenze Oleandro Tights. They come in several bright and fun colors that are highly fashionable. 
The Future of Hosiery
Yes, pantyhose and sheer nylons and tights are definitely making a comeback. The hosiery market is predicted to grow over 2.1 percent over the next several years, which indicates that they are here to stay.
To find the best and some of the most popular brand names in hosiery today, be sure to visit us at hosieree.com. We have all the latest in hosiery fashion for you to consider.