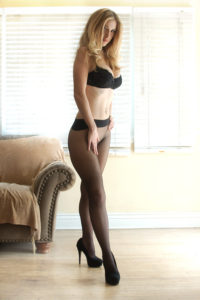 So you've bought a new pair of tights and you're excited to put them on. Allow us to stop you there for a minute.
Even if you have the best European-made hosiery like the ones we offer at Hosieree.com, you still need to be more careful in handling them, especially if you've gone for tights with a lower denier like the Angel 15 Seamless Tights. The lower the denier, the more delicate the fabric will be.
If you want your tights to last longer, you need to take care of them properly. Here are the dos and don'ts to remember when you're putting on your tights:
Dos:
Make sure your tights are the right size. Before even putting them on, make sure that the size you purchased will fit you properly. Hosieree.com has size charts for every pair of hose so you can pick the one that's right for you.
Prevent snags on fingernails. Make sure your fingers are trimmed. You can even go further by using hand lotion to ensure that your fingers will not snag your legwear. The last thing you want to do is to accidentally rip your tights.
Treat your feet right. Good hosiery care starts with good foot care. Since your feet will come in contact with the material, make sure your toenails are not long or sharp by trimming them. Just like with your fingers, use a good-quality body lotion to make your feet soft. This will help avoid premature laddering.
Handle your tights with love. We know you're excited about the newest addition to your wardrobe, but please take great care of your tights when you're pulling them out of the packet. Be extra careful so those new tights of yours will last longer.
Don'ts:
Stop tugging. When removing the product from its package, remember to do so gently. Gather your tights from the top to the toe carefully. Don't pull on the fabric too hard as the material might break and you might end up with runs and tears on your tights before even having the chance to wear them.
Do not ever rush. Whatever you do, do not rush putting on any kind of hosiery. We know you're busy and you probably have a lot of things to attend to, but it's important to take some time in putting on your tights. Smooth the fabric up to your leg as you go. Here's a guide on how to do this the right way:

Pull the first leg up to the knee and then the second leg.

After doing so, work on each leg alternatively until you get to your panty.

Pull your tights up gently over your buttocks and stomach.

Leave enough room in the toe area.
We all know that hosiery doesn't last forever, but we can try to preserve it to get the most out of them. You can only do this by taking good care of them. Care for your tights and other hosiery items as if you're caring for your skin. You'll be glad you did.