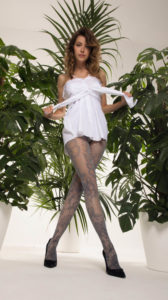 Spring is upon us, and with it shorter hemlines, breezy sunny days, and plenty of opportunity to make the most of your hosiery. Spring is really a "golden" season when it comes to hosiery. In the winter months, your only real everyday options are opaque and knitted tights, but the spring really opens up so many other possibilities for you to take advantage of. On chillier days, you're more than welcome to wear those knit tights and opaque pairs of hose, but you can also play with sheer, fishnet, and lighter looks when the warmer weather allows.
If your hosiery wardrobe isn't quite ready for spring, a few must-haves for your hosiery drawer this season are:
Back seam tights – With the shorter hems that come in the spring, back seam tights are perfect for elongating your leg and slimming your figure. They're cute and flirty with any outfit, and they really ramp up that sex appeal for short skirts on date nights. With a pencil type skirt that reaches the knee, these can even be worn professionally in the office.
Go floral – Springtime is the time to wear your florals proudly, and this means with your hosiery as well! Floral patterned hosiery brings that touch of spring freshness to absolutely any outfit. With a simple outfit, they really let your legs stand out as the statement piece of your entire look.
Embrace the knee – Throughout the winter, you probably haven't had much opportunity to use your legs as a real part of your look, and that rings especially true for anything above the knee. As you're breaking out the higher hems, use your hosiery to bring a little fun into your looks with knee-high styles in your hosiery.
Sheer hosiery – Sheer hosiery is a major staple for spring and summer, and this is hosiery you'll use to really perfect the look of your legs on those warmer days. With a classic pair of sheer nude hose, you'll really get the full perfection effect you're looking for.
At Hosieree.com, we have just what you're looking for no matter the season, the outfit, or the occasion. If you're looking to revamp your spring hosiery wardrobe, we're confident we have exactly what you're looking for. Check out our stock today to get your hosiery wardrobe ready for spring!