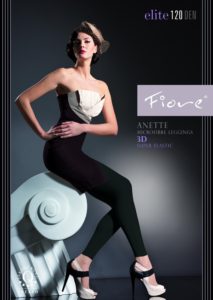 With so many of us spending so much time at home now, we are all looking for comfortable things to wear. One of the coziest things to wear is a pair of leggings. Leggings are great because they allow you to stretch out and relax. They also go with practically everything. You can wear them with your favorite soft T-shirt, a boyfriend hoodie, or even a housedress. Here are some of our favorite comfy leggings that make great loungewear pieces:
1. Bellissima Leggings K2 3D Microfiber
Available in two colors, these comfortable leggings are suitable to cool fall weather. Made with microfiber, they are as soft as butter against your skin. You also do not ever have to worry about them stretching out over time.
2. Diana Opaque Leggings With Vertical Striped Pattern
Also great for cooler temperatures, the Diana Opaque Leggings are knit leggings that fit comfortably over your feet. Ideal for cozy days in, these will keep you cool and comfy. The added foot straps make them great for activities like dancing around your home while you do your chores. The vertical stripe style is quite unique and adds interest to your look.
3. Botanical Microsuede Leggings U16964
If you are looking to upgrade the style of your loungewear, consider a pair of microsuede leggings. Durable and comfortable enough for around the house, they are stylish and elegant if you need to run out or jump on a quick video conference for work. Plus, microsuede is one of the softest materials around and feels great against your skin.
4. Opaque 3D Microfiber Leggings Anette
Available in a range of fun colors, the Opaque 3D MicroFiber Leggings are the best pieces to create a chic loungewear look. They are extremely comfortable and ideal for wearing all day around the house. They also offer a slimming effect, so they will help you come up with a trendy look to post to social media. These are definitely must-haves for your at-home looks.
All of these options are especially designed for chilling at home. Add a comfy pair of socks like the My Bio Bamboo Sneaker Socks and you will be ready for the day. Check out some of our other legging options at Hosieree.com, and let us know what your favorite pair to wear around the house is. Also, reach out to us if you have any questions. We are always available to help you pick the perfect pair of leggings for your needs.