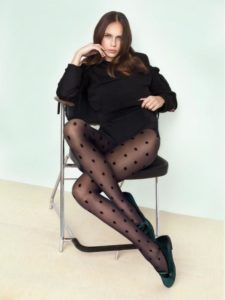 When one thinks of hosiery, it's easy to picture an empowered woman who knows how to rock patterned or sheer hosiery while looking like an ever-classy lady. Some may even picture women from earlier centuries who wear hosiery underneath their long skirts.
Hosiery as a fashion statement has come a long way. It has evolved through many styles and materials. And while we at Hosieree.com carry brands that offer only the best quality hosiery, it's good to look back and see where this fashion statement started.
The Evolution of Hosiery
Hosiery dates back to as far as the 9th century, where the crudest of materials—including gut strands to act as suspenders—were used. This evolved to woven stockings, knitted pairs, and synthetic yarns.
As the material evolved, so did the use of hosiery. Did you know that in the earlier centuries, men also wore hosiery? While it might be a sight to imagine men in tights or lacy hosiery, they actually wore it even before women did!
Hosiery was even used as a way to distinguish between social classes. This is because the members of the upper class would wear white or colored stockings, while those from the lower class will wear black. Considering the nature of work that the lower-class citizens had to do, this difference in hosiery colors made sense.
From Panti-Legs to Pantyhose
Even the pantyhose has an interesting back story. According to records, Allen E. Gant supposedly first created the pantyhose in 1959 for his wife, Ethel Boone Gant. Ethel was pregnant, and had a hard time going on trips because women were expected to wear thigh-high stockings, girdle, and garter, which did not sit well with pregnancy.
Gant got to work sewing stockings onto panties, which his wife was able to use. Gant took these to a clothing mill and created better prototypes that finally churned out the pantyhose that we know today.
Politics of Pantyhose
There was also a time in hosiery's history that it became a statement for women. As the fashion industry saw an overall revolution, bare legs also seemed to embody freedom and comfort. Perhaps the issue was more in the expectations from women regarding fashion more than the dislike for pantyhose.
Nowadays, hosiery has become a part of women's fashion. Some use it as part of their uniforms and outfits for the daily grind. Others wear it as an expression of themselves and their fashion sense.
The beauty of hosiery is that, despite the fluctuations of use and perspective on these undergarments, it has evolved with the times. Now, it is more common to see colored tights or lacey stockings as part of one's fashion statement, proof that hosiery is here to stay.
Hosieree carries a number of brands and hosiery styles that you can choose from. Check out the website for more styles, and add some spice and texture to your everyday wardrobe with the right hosiery garment for you.