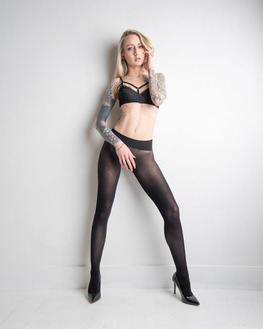 Stockings, pantyhose, and other hosiery are considered delicates and should be taken care of as such. If you want to learn how to keep your stockings looking pristine, then read on for some helpful tips and tricks to keep in mind on laundry day.
Wash Only When Necessary
It is recommended that you handwash your hosiery in cold water and wash only when necessary. Typically, hosiery should be cleaned after every five to six wears to eliminate body oil or dead skin cells that may have settled.
If you have to wash your hosiery in a washing machine, it should be done on the delicate setting in cold water and preferably in a mesh garment bag instead of just tossed into the washing machine.
Avoid High Heat
Avoid high heat at all costs. Heat and hot water can reduce the overall elasticity of tights. This can lead to sagginess, and you will quickly find that the fit of your hosiery is less than ideal.
A cold wash can help protect the texture of your tights and other hosiery items while also protecting the color. When dried with high heat, your hosiery can also shrink. After washing, hang everything to dry.
Avoid using a clothesline when drying your hosiery as well. You risk snags and tears when placing hosiery on a line like this. The line can also cause dents and stretch out your hosiery, resulting in a poor and loose fit.
No Harsh Detergents
Harsh detergents, excessive washing, and fabric softeners can actually wear out the fibers of your hosiery and can damage them. Choose a very delicate liquid laundry detergent when handwashing your hosiery.
You can also fill a bucket with cool water and add a few drops of baby shampoo to the water before washing your hosiery.
Washing Your Hosiery
When handwashing your hosiery, allow everything to soak in the cool water and mild soap for approximately ten minutes. Give the garments one final massage in the water and soap, and then rinse everything under cold water. Lay everything out flat for drying.
If you follow these handwashing and washing machine tips, you will find that you can keep your delicates in the best condition for longer. \\\
Ready to update your hosiery wardrobe? Visit us at Hosieree.com today and start building up the essentials.