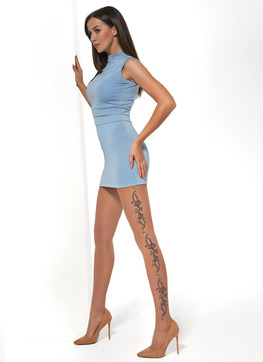 Hosiery can transform your look in more ways than one. Not only can it bring your shorter hemlines to the office, your basic skirts to an edgy or high fashion level, and your shorts into the fall and winter seasons, it can also transform the way your body looks as well. Choosing hosiery to flatter your figure ensures you'll always look your best no matter what you choose to wear. A few tips for choosing the hosiery that best flatters your figure are: 
• Bringing the height – Not all people have legs that go on for miles, but that doesn't mean you can't create the illusion that they do. If you're looking to elongate the leg what you want from your hosiery are long lines. Our Cecilia de Rafael Hyde Park Back Seam Pantyhose  has back seams that take the eye all the way from the heel up to the back of the tight, elongating the leg in a simple, elegant, and classic way. 
• Vertical designs and small patterns slim the leg – If you're looking to create a slimmer silhouette, vertical designs and small patterns are the way to go, and especially when on black hosiery. The Adrian Constance Fashion Sheers in Nero or Giulia Afina 40 Fashion Tights are perfect examples  you can find at Hosieree.com for subtle slimming you can mix and match with just about any outfit. 
• Color and bold patterns play up your curves – For those who wish to play up their curves, you may want to look into bold colors and bold patterns to give your legs a thicker, curvier, and bolder look. The Calzitaly Fishnet Tights with Leopardo Pattern are a perfect example of hosiery to really give your curves a moment in the spotlight using a bold pattern, while the Trasparenze Microfiber Sophie 70-Opaque Tights are just what you're looking for if you'd prefer to play with color. 
With the right combination, your hosiery can really polish your outfit and give you the silhouette you've always dreamed of by adding one simple accessory. If you're looking for your perfect hose to slim, elongate, or emphasize, check out what we have in stock at Hosieree.com today.