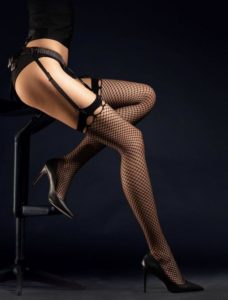 Hosiery is not just a functional accessory that makes all your outfits shine—it is also a very attractive thing to wear. If you have an upcoming date night and want to add more allure to your ensemble, one way to make the night special is to dress up with a beautiful pair of hosiery. Here are some of our top pieces that will surely leave a lasting impression on your date:
1. Burlesque Fishnet Stockings
If you are going for a classic vintage look, fishnets are an excellent choice for date night. These Burlesque Fishnet Stockings have an added lace detail on the band. Perfect to pair with your favorite garter belt, these can be dressed up with any of your favorite vintage lingerie looks.
2. Incontra Fashion Suspender Stockings
Do you prefer the look of stockings with a garter belt but do not want to invest in multiple pieces? If so, suspender stockings are ideal for you. They go on just like a pair of standard pantyhose, but they have a built-in suspender that recreates the look of stockings with garter belts. This pair features a gorgeous red embroidered corset bow to add a little something extra to your look.
3. 211 Open Crotch Tights With Back Seam
Another great stocking alternative is open crotch tights. This pair has both the back panel and the center panel removed. It showcases your lingerie but gives you the support and comfort of a pair of pantyhose. We love this pair because it comes in a range of gorgeous colors including black, red, and nude with a black seam. With that, you can easily find the perfect match for your lingerie.
4. Oh La La Cheri 3129 Raquel Garter Belt
No pair of stockings is complete without the perfect garter belt to match. The Oh La La Cheri garter belt comes in white and black with a touch of lace to achieve any look. Comfortable enough to wear all day but easy enough to put on and take off, this is the perfect simple garter belt to complete your lingerie collection.
5. Desiree 15 Stay-Up Stockings With Floral Lace
One more option for date night is to skip the garter belt and go for stay-up stockings. Stay-up stockings have a built-in feature that keeps them in place while you wear them. These silky soft thigh-high stockings have a beautiful lace detail at the top. They come in a range of beautiful natural colors and provide an irresistible look.
No matter which look you end up choosing, we are sure your date will be in awe of you. For more date night options, check out our whole collection of stockings. Not only do we have all the styles you need, but all the options at Hosieree.com are also made with the finest European materials. The end results will both impress and last a lifetime.