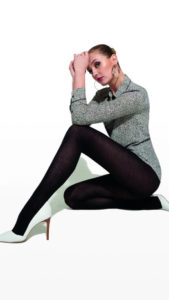 Hosiery is among the top accessories for winter. It comes in a variety of materials that are designed to keep you warm and dry. Hosiery also can easily be layered, so you can stay the perfect temperature when you go in and out of buildings. Here are our favorite pieces to keep you warm all winter:
These plush, warm leggings are a winter must-have. Super soft and stretchy, these leggings are a 150 denier, which will block even the coldest winds. These leggings are also technologically advanced and use a fiber with bacteriostatic qualities that help protect against excess moisture and allergies. Available in black, brown, and navy, they will match all your winter favorites.
One of our favorite winter layering options is a pair of legwarmers. Legwarmers are stylish and go great with any footwear. They can be easily put on to trek through the snow and taken off when back in the heated indoors. You can even layer legwarmers to create a modern look and add extra warmth to your outfit.
3. Bellissima Everest 100 Winter Tights
These black tights are the ultimate winter wardrobe staple, and they were designed to stand up to the coldest temperatures. Made with a blend of cotton and microfiber, these breathable tights are extremely soft against the skin. They will look great with your favorite dress or skirt, or you can layer them under a pair of trousers.
4. Keaton Cotton And Wool Tights
Another great option if you are looking for basic black tights, these are made with a natural fiber blend that will keep you warm all day. Comfortable and breathable, they go with any outfit of your choosing. The wool fibers help keep you extra cozy even in the harshest winter temperatures.
Among our favorites for winter, the Thermic Ice Winter Tights can keep you warm in even freezing temperatures. With a matte finish, they are great to wear to the office or with your favorite casual outfit. Because these tights are extremely stretchable, they are also ideal for outdoor activities.
All of these hosiery staples will help keep you warm this winter. We have some other amazing options you can check out as well. At Hosieree.com, you can stock up on all your winter layering needs. We have a wide selection and will make sure that no matter what look you are trying to achieve, you can find what you need.