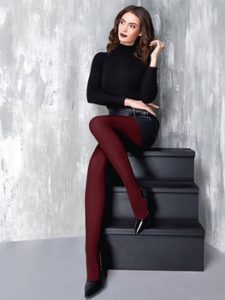 Fall is finally here! We can pack up our summer sandals and get out our favorite pairs of boots. One of the easiest and most stylish ways to wear your fall boots is paired with a dress skirt, or shorts and a great pair of tights. Though it's a great look, it can be a little tricky to pull off so you look your absolute best. However, with a few simple tips, you can make sure that your fall favorite is also flattering.
Booties
Booties are really an elegant footwear choice, so you want to make sure that your hosiery is equally as elegant. An easy way is to go with a pair of matte black tights. If you're looking for a more eye-catching look, you can also pair them with a pair of matte colored tights like the Blues 70 Opaque Tights. Booties also look great with fishnet stockings and lace tights.
Ankle Boots
Ankle boots are a perfect option for fall. However, ankle boots can often make your legs look shorter and wider. However, if you pair ankle boots with a pair of tights, you can make your legs look leaner and longer. Choosing a monochromatic look will lengthen the look of your legs even further. For example, if you're wearing black boots, choose black stockings. If you're wearing brown boots, choose brown stockings.
Knee-Length Boots

Knee-length boots are a standard of fall fashion. Wearing knee-length boots with tights gives you a little more flexibility because you don't have to be as concerned about staying warm. So you can wear some mesh tights like the Gabriella Inez Tights. Knee-high boots also cover most of the leg, so you can use this as an opportunity to add an easy splash of color or an interesting print without overdoing it.
Following these simple parameters will make sure that you always look incredible when you pair boots and tights. Hosieree.com offers the largest selection of European hosiery. We'll help you find the perfect tights no matter your choice of footwear. Browse our collection and let us know if you have any questions.