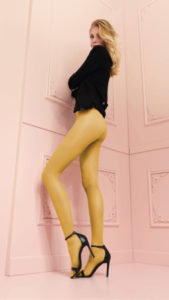 With winter soon coming to an end, it's time to start planning your spring wardrobe. Many of us welcome back the bright, fresh colors of spring and can't wait to ditch the layers. However, in many places Spring is still pretty chilly, so it's a good idea to plan some outfits that include tights to warm. Here are some fashionable ideas to get you started.
Go Bare Without The Chill
If you want a bare leg look, a pair of skin-toned tights is a great addition to your spring wardrobe. You can get the look of bare legs, without having to worry about staying warm. Plus you'll get the added benefit of smoother, tighter looking skin. We recommend getting an invisible pair like the Alba Chiara 40 Tights available in a variety of natural skin tones. If it's a little warmer out, but you'd still like to achieve a smooth leg look try wearing the Breeze Summer Panythose by Cecilia De Rafael.
Go For White Tights
During the fall and winter, dark, muted colors like black and navy pair perfectly with your wardrobe. In the summer, try a brighter neutral with the color white. Not only is white a perfect accompaniment to all your spring pastels, white tights also very on trend right now. Try the Invisible Ultra Sheer Tights in Bianco for a sheer look and the Bellissima Micro 90 Microfiber Opaque Tights in White for an opaque look. You can also consider experimenting with white fishnet like the Carmen Small Fishnet Tights in White on a warmer day.
Try A Pastel Look
There's no better color scheme for spring then pastels. Pastel tights feel fresh and airy, but keep you warm. Check out the Brigitte 15 Denier Pantyhose that comes in a wide variety of beautiful sheer pastels. For a more opaque look try the Cortina 40 Semi-Opaque Tights in Bright Colors or the Trasparenze Oleandro Tights. If you want a bold look, try the Hamadryas Pantyhose. They come in two perfect-for-spring pastel floral prints that will turn any outfit into a statement.
Planning your spring wardrobe is easy when you add tights to your favorite looks. They'll not only keep you warm no matter what the weather does, they'll help you pull together your outfit. Check out Hoisiree.com for more tights you can incorporate in your springtime looks.