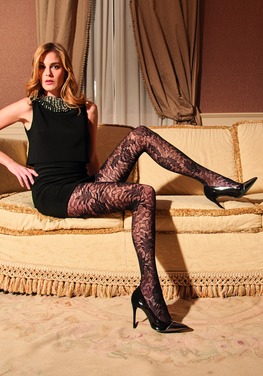 Lace adds a touch of sexiness to any wardrobe. However, it takes a good eye to make sure you strike a balance between hot and not, and don't go overboard. 
If you want to take the lace game out of the bedroom and into your everyday outfits, here are practical and easy ways to do so. Incorporate a touch of femme fatale and still be work-appropriate, so you can take office wear to the next level.
Go For Fine Textures
Conservative workplaces may force you to switch your finer tastes for sensible shoes. The good thing about lace tights is that they add a touch of sexy and conservative, so long as you pick the right texture.
For offices, it's best to go with subtle and fine textures. These go well with solid colors and power dresses. Finer styles ensure that they add sexy but do not scream for attention, and won't have HR sending you a memo on appropriate outfits.
Be Careful of Color
There are no hard or fast rules when it comes to dressing with splashes of color as long as you know the complements with the contrasts and make them work to your advantage. However, when it comes to tights and hosiery, it may be better to stick with colors that complement so your legs will not stand out too much to break the composition of your OOTD.
If you prefer clashing colors on your outfits, up your shade game and distinguish which shade of two clashing colors works best. While vivid yellow and bright violet can bring an abstract vibe to your outfit, picking mustard yellow and a darker violet would hold a more sophisticated shade.
Make your knowledge of color work to your advantage when picking out your next pair of textured tights.
Pick the Right Hemline
A common short girl problem is whether textured tights would look great on them. The long-legged are blessed because they can showcase nice lace tights and make the pattern work to make their legs even longer and slimmer.
The same can work for any petite women as long as you pick the right hemline for your dress or skirt. Try to pair a nicely designed pair of tights with a hemline that shows off your legs. The good thing about pairing tights with skirts is that even if you go for a shorter length, you can still go for a coy but conservative look with the right pair of tights.
Knowing the right pair of pumps or kickers also does the trick. Sometimes, it can work with boots, but if you pair plain dresses or skirts with textured tights, to break the monotonous pattern. Opting for pumps gives the slight advantage of letting the texture of the tights speak for itself and highlight your gams.
Hoiseree holds a wide array of textured lace tights. Check out which design works well with your daily office or date outfits, and try on a pair.