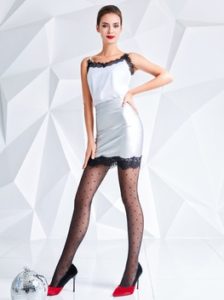 The year 2020's pantone color of the year is classic blue. As fashion and design goes back to the classics, this is a nice time to explore your style in the same direction. 
Whip out some of your classic blue outfits or add touches of blue to your wardrobe that will keep you on trend for the coming season. Best of all, classic blue can be a regal but also playful color—and what better way to up the ante than adding the classy classic hosiery to finish your outfits?
Check out these three ways to wear blue outfits with hosiery for next year's fashion season.
Classic and Formal Wear
Just because bare legs at cocktail parties are already on-trend does not mean you cannot bring back the appeal of pantyhose at the next formal gathering. Tights can give a dash of oomph to your outfit, especially when paired with a darker shade of blue for your dress.
This works particularly for evening events, as a pair of black pantyhose with a dress gives it a more formal vibe, and elevates the mini dress into a fabulous and fancy affair.
The Classic Office On-trend Look
Who says dresses can't be power suits? Unleash your stylish femme fatale by pairing classic black tights with blue dresses or skirts in the office. Tights can that one factor that transforms a look from boring to business in one fell swoop.
There are two ways to go about this. You can opt for neutral tights, which will create a smooth, matte finish for your gams and highlight a classic blue outfit. Another way is to create a slight contrast with black tights and pumps paired with a blue dress or a power suit with a pencil skirt, if you really, really mean business as usual.
The Playful Navy Dress
The navy dress can be a Sunday wear or an after-office stylish look. You can pull off both looks by pairing the right type of hosiery with the dress on each occasion.
Colored tights can bring a playful contrast, whether you opt for a burgundy pair or a classic white or cream combo. The former will have a very trendy look, while the latter has a touch of a classic sailor look.
Lace tights also work wonders with a navy dress. Pair a plain navy one piece with textured lace tights and finish it off with sleek black pumps for a party-ready look.
Looking for some great tights to jazz up your old blue outfits? Check out Hosieree's lineup of tights, leggings, and hosiery. Get ready to up your gam-game in 2020!