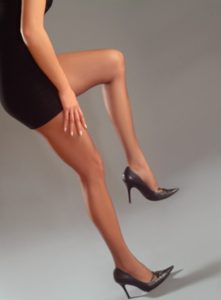 There's no real wrong time to wear hosiery, but on the flip side, there are wrong plenty of wrong times to go hosiery-free. Certain situations call for hosiery to be part of your outfit in order to look inarguably appropriate and put together, and we want to outline these situations and a few perfect hosiery options. The top 4 situations where hosiery is a necessity are:
1. Job interview – Going hosiery-free to a job interview can communicate a lack of professionalism depending on who you may be interviewing with. For this reason, it's always best to be safe while interviewing, and to wear a stylish and timeless pair of hose. You can never go wrong with a nude pair of panty hose like our Acapulco 7 Non-Slip Sole Pantyhose, but you can also have a little fun with statement hosiery as well. Hosiery with a light pattern or a flattering but subdued color to match with your outfit can really bring the hosiery into your overall professional, but stylish, look.
2. Ceremony events – Whether it's a religious ceremony, a wedding ceremony, a graduation, or any other type of ceremony, it's better to be a little overdressed than underdressed. For ceremonies, hosiery brings a bit of elegant conservatism to your overall look, and you can rest assured that you look completely appropriate no matter the type of event you're attending.
3. During cooler months – Wearing hosiery during the cooler months isn't just a fashion necessity, it's also a comfort necessity. Wearing shorter hemlines during the fall and winter is comfortable when paired with the right hosiery, and you can take warm weather pieces and get quite a bit more mileage out of them during the traditional "off" season. For this hosiery need, you're going to want to opt for thicker pieces that provide that necessary warmth, like our Arctic 500 Microfiber Tights.
4. Places of worship – Whether you're attending a ceremony or attending a service of some kind, going to a place of worship will require hosiery if you plan to dress in a skirt or any outfit with a shorter hemline. Hosiery tends to give an outfit a more conservative feel, which is appropriate in these situations in particular. To see what hosiery pieces you'll need for your next hosiery mandatory event, check out what we have in store at Hosieree.com today!