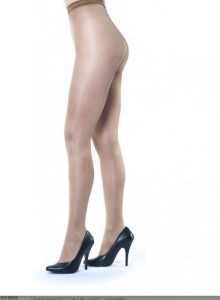 A pair of silk stockings can elongate your legs and transform your look from plain to sensational. Beautiful, exotic, and luxurious, these stockings are wearable for all occasions. Whether for special events or for more intimate occasions, beautiful silk stockings add excitement and real glamour to your fashion style and personality. It is no surprise most men find it erotic and incredibly attractive when women show off their beautiful legs in gorgeous silk stockings. Silk stockings go with almost everything so they are definitely one of the classic and essential pieces that should be in every woman's wardrobe.
The history of silk stockings can actually be traced back to the 16th century when imported silk was widely used to make exquisite stockings. During this time, most of the women believed that silk stockings added certain elegance to the middle class fashion. This eventually gave birth to the classic and royal style. Manilyn Monroe and Queen Elizabeth were two of the famous women who were fascinated by the glamour and luxury of
silk stockings. When short dresses became the fashion in 1920's, fully fashioned silk stockings became more popular and widely available.
Although stockings made of different materials such as nylon, cotton, and rayon have become popular nowadays, silk stockings remain irresistible and timeless. Sexy, elegant, and delicate
silk stockings are one of the most indispensable
fashion accessories that will never go out of the fashion scene. Nylon and cotton
stockings are less expensive, but silk stockings are simply delightful. Wearing a pair of these stockings will surely flatter your legs, boost your self-esteem, and add more passion to your lifestyle. Silk stockings can also be a great gift idea for leg wear aficionados and women who love comfort and style.
Silk stockings are still a bestseller today. However, with so many colors, sizes, and patterns to choose from, it can be hard to decide which one is worth buying. By remembering a few simple tips, you can make your shopping trips easier and more efficient. When shopping for a pair of silk stockings, pay attention to the material. Make sure that the stockings you are purchasing are high quality and a hundred percent pure silk. When in doubt, it is most prudent to purchase your pair from a reputable brand.
Stockings made of pure silk contain no Lycra thus it is important that you choose the right size.
A pair of silk stockings is the simplest way to upgrade your whole look but they can be a bit pricey compared to nylon and rayon stockings. So before buying a pair, it is essential that you choose the color that you really want. Visually, even the simplest color of silk stockings is fascinating and hard to resist so your choice will ultimately depend on your personal preference. In fact, black silk stockings exude sexiness and sophistication that accentuates feminine sensuality. On the other hand, tan-colored stockings strongly emanate a seductive yet sophisticated style. If you are not very confident about your legs, then these ones are the best for you.
Though black, suntan, and grey are the most popular options, other exciting hues like pink and navy blue are also offered. Pink stockings are a fantastic choice especially if you want to achieve a glamorous and bewitching look. Pink choices are wild but fascinating; you can confidently wear them under all kinds of clothes. Women who prefer this color is much bolder and is often very fashionable. Blue is another trendy color that is also perfect for extraordinary occasions, parties, and special evening dates. Just like the pink ones, blue silk
stockings are beautifully rare and are commonly preferred by women who want to show off a distinctive style and sensibility.
Silk stockings can give a feeling of exquisiteness and bring romance to your life. It is just a matter of finding the right pieces that suit your fashion sense and style.