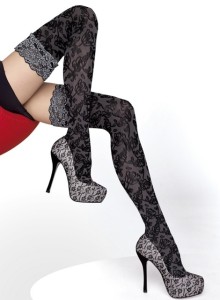 When you think of thigh high stockings, you often think of bedroom scenes with sexy lingerie involved while
pantyhose in general is more of what you think of for wearing out and about. Things have changed and evolved in recent years and many styles of stockings are worn out and about, especially at dress up and formal events such as weddings, galas and parties.
Stockings have become a major fashion accessory that can be worn with just about any outfit and shoes. Some pantyhose or thigh highs are smooth and sleek while others are textured and alluring.
Stockings come in many different textures and styles, something for everyone. If it is eye catching and alluring you are after, try thigh high hosiery that has bold vertical stripes that draw the eye up and down your leg. These are appealing to many people, taking basic
pantyhose a step further with texture and boldness. There are always the sheer, versatile
pantyhose styles that cling closely to your skin and provide a slimming factor. All of these styles come in a variety of shades, from black to beige and nude in color. Nude for invisible, black for eye catching texture are often good choices.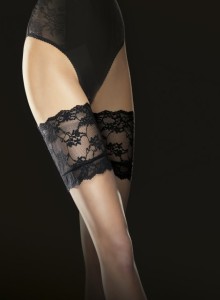 Inside the bedroom, ooh lala! Stockings, especially thigh highs, can be a wonderfully sexy addition to beautiful intimate wear that is designed to captivate and enthrall. Lacy thigh highs with a floral band of roses are romantically sexy when paired with a lacy teddy and high heels, or merely worn alone. Outside the bedroom, ramp up a sexy outfit with tulle thigh highs accented with back seam and lace for wedding day pizzazz or try gothic tatters for an edgy biker chic look for a night on the town.
Stockings can accent just about any outfit you want to wear, from soft and sexy looks to edgy and tough looks. From short n sassy skirts to long and sexy skirts, the right hosiery can make all the difference in appearance and allure. A versatile and pleasing accessory,
stockings are stylish and trendy as well as attractive and fun. Choose something that suits the evening's persona, whether sweet and sexy or sassy and bold. If the bare leg look is what's on tap, try a sheer stocking chosen in a skin tone that will caress your legs, provide a slimming factor and be wonderfully silky and sexy. Stockings are all about accessorizing your look.