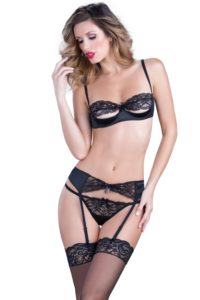 Women come in a variety of shapes and sizes, making each woman unique in her own way. Many body shapes for women fall into one of five key categories: apple, rectangle, triangle, inverted triangle, and the hourglass figure. 
These categories simply refer to the different proportions of a woman's shoulders, waist, and hips. Weight is never a factor.
With so many categories, it can be difficult to find the best lingerie for your shape. When we wear lingerie, we want to feel sexy, confident, and powerful in our own skin. So, today we will discover how to find the best lingerie for our body type.
Hourglass Body Type
If you have an hourglass body type or a "36-24-36" figure, you just want to emphasize what you already have. Your shoulders and hips are the same width, and you have a slender waistline. We recommend garter belts, teddies, and corsets as the best lingerie for this particular body type. 
While a garter belt looks incredibly complicated, it really isn't. Every woman should try one on at least once in their life. They can be worn under skirts and dresses and is a great starter piece for anyone dipping their toes in the world of lingerie for the first time.
Triangle Body Type
With this body type, your hips are slightly bigger and are wider than your shoulders. So, you want to make sure that you make your body looks balanced and more proportionate. Lace is always a winner on this body type, and a bustier can be used to draw more attention to the chest area. Matching bra and panty sets are also good at leveling out your shoulders and hips.
Lace is comfortable and sexy at the same time. It is also incredibly sheer and can provide a bit of mystery when worn, which makes it even more exciting.
Rectangle Body Type
This is described as more of an athletic figure with minimal curves. For this reason, you want something that cinches the waist. A corset is perfect for this body type. Longer torsos can also mesh well with a garter belt and push up bra. 
Inverted Triangle Body Type
Broad shoulders characterize this body type. A bandette with a lace panty would look amazing on this body type, along with camisoles. They all provide a tame look but go a long way in defining this body shape. A camisole can be practical and functional but is never bland when paired the right way. They are a staple for every woman's wardrobe. 
For more lingerie options, visit hosieree.com today to explore our high-quality selection.