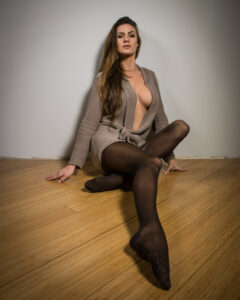 As temperatures start to drop, people start to bundle up. They prioritize being warm with puffy coats, wooly sweaters, thick pants, and boots over being fashionable or stylish. But if you care about how you look even when it's colder outside, you don't have to sacrifice your aesthetic. You can definitely wear a statement dress and stay warm with one simple accessory: hosiery.
Staying Fashionably Warm
The TrendSpotter reports that, among many things, sheer fabric and low rise miniskirts are one of the trends to look forward to this fall and winter 2022. The cold weather and these types of clothing do not seem to make sense, but how do the fashionable gals make it work? 
You got it, hosiery.
They are a classic wardrobe staple that we believe will never quite go out of style. If you wore them as a child or teen to keep you warm in school during the colder months, then you already know how well a good pair of tights can keep your legs warm. You can wear the shortest skirts and still feel warm as if you were wearing a pair of pants.
Some people even double-up on the hosiery to keep warmer. You can wear two pairs of tights—try nude tights designed to keep you warm under black sheer tights—or a pair of leggings under your tights. You could also wear all nude hosiery to make it look like you're wearing only a skirt. 
But, of course, fall/winter 2022 is not about plain looks. It's all about bold statements and colors. You can do that with tights, too! Statement tights, in particular are also expected to be a major trend. Our hosiery comes in so many colors, prints, and styles that can complement any trend you choose this season.
Best Hosiery For Warmth
Our Transparenze Jennifer Merino Wool Tights comes in nine colors that you can use for a bright-colored outfit. You could achieve the metallic look with a simple pair of tights with a metallic effect. There are so many options and endless combinations to last you a season over. 
Check out our latest collection of hosiery at hosieree.com.