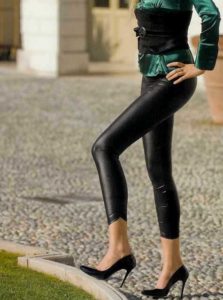 The New Year is fast approaching as we continue to make our way through the holidays. With so much going on, have you even found the time yet to plan a special outfit to celebrate the New Year?
Whether you are staying home or playing it safe with some friends, there are several ways you can jazz up any outfit to make it worthy of a celebratory night.
Go Bold
If you are looking for a bold look, then don't be afraid to embrace the appeal of sequins and glitter. We are seeing this look all over the place, so why not embrace it? You can choose to go for a full sequin look or add a few small accents here and there to make your ensemble pop.
Glittery tights are a great way to embrace the look without having to go full glitter and glam.
Glittery tights are also good if you find yourself going from work to a night out. You can transform your work look into an evening look easily with just the legwear you choose.
Go Metallic
If glitter isn't your thing, but you still want to make an impression, then try out some metallic legwear. It offers the same vibe but is more subdued. Metallic colors, gold damask patterns, and polka dots are also trending this year, and all go well with gold and silver accents.
Shiny leggings can add some urbanism into your New Year ensemble as well. It is a good bit away from regular, plain legwear, and they go great with any top you choose.
Plain Leggings
You can even choose to go with a comfortable pair of solid colored microfiber leggings and pair them with a crisp white shirt and some holiday accessories. Add a few red accents, whether it is in your handbag or earrings, and you have yourself a festive outfit for the holidays.
Have a new evergreen top you are itching to wear this holiday season? Why not dress it up with a pair of bold and dramatic leather leggings. You can mingle at a cocktail party, attend a work function, or have a good time at home in this outfit.
If you still need ideas or you are on the hunt for the perfect legwear for this holiday season, be sure to visit hosieree.com and browse our amazing selection.