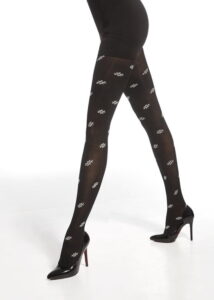 Maybe you just can't wait to break out your favorite pairs of shorts, and we can't blame you! The right hosiery lets you give your favorite shorts a bit of extra mileage. Classic and versatile, shorts with hose is one of our favorite looks for the early spring season. 
First and foremost, you don't have to settle on a particular type of shorts to try this trend. The easiest way to wear hosiery and shorts is with a tailored short, but that doesn't mean you can't give your denims a try. For those just trying shorts with hosiery, however, the tailored short is the perfect starting point. 
When wearing tailored shorts with hosiery, try going for a monochromatic look. A black pair of tailored shorts alongside the high denier Calzitaly Opaque Tights with Cushioned Sole creates a simple, uniform look that works for a girls' night just as well as it works for the office. Paired with a blazer and an oxford shirt, you're meeting ready. Remove the blazer, unbutton the top buttons of the shirt, and roll up your sleeves, and you've gone from day to night in seconds.
Once you've mastered the tailored short and monochromatic look, you can start expanding your looks and playing with the versatility this trend has to offer. Distressed dark denim creates a really interesting juxtaposition against the refined look of hosiery, and we're really loving this look with patterned hose. Ripped dark denim shorts, the Adrian Hasha Fashion Tights, a tucked in relaxed top, and a pair of fashion shoes might just be the brunching look you've been looking for!
There's no reason why your shorts must go into hibernation from the early fall all the way into late spring. If you have shorts you love, find a good pair of hose and wear them! At Hosieree.com we have classic looks, on-trend hose, and those staple pieces that fit right in the middle so you can take your favorite pairs of shorts with you all year long. Looking to break out your shorts early this year? Check out what we have to pair with them at Hosieree.com today.