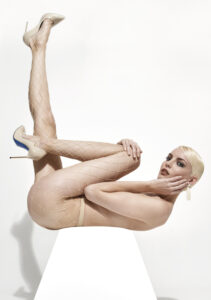 Fishnets are synonymous with 80s and 90s alt-rocker style, even if they're really so much more versatile than just that. With all things old becoming new again, we're seeing a huge fishnet resurgence that we just can't get enough of. 5 tips for mastering the fishnet trend in 2023 are: 
1. Customize with your pattern – Fishnets are far from a "one size fits all" style. There's larger patterns, smaller patterns, even those with a bit of sparkle like our Adrian Sparkle Fishnet Tights. If you're going with a classic grunge chic look, a classic medium sized fishnet like the Fiore Passion Fishnet Suspender Tights will never let you down. It creates the perfect pattern to peek out from and contrast with ripped denim. Want to dress it up? Break out those sparkle fishnets instead. 
2. Layer up if you're going with a mini skirt – Fishnets with a mini skirt is a classic combination, but pairing it well without losing balance can get a little tricky. Fishnets really draw the eye to the legs and they show quite a bit of skin, so keep layered up on top. If you plan to wear fishnets with a anything mini, like skirt or tailored shorts, go with a higher collar, a blazer or jacket, or a loose menswear inspired blouse. You want your legs to shine, and this draws the eye right where you want it to be. 
3. Let it pop up top – Crop tops are back in style in a huge way, and this lets you show off your fishnets a little differently. Rather than bringing attention to your legs, pair your fishnets with lower waist jeans and let them show off your midsection instead. Wide and high waisted fishnets like our Trasparenze Edera Wide Fishnet Tights can be pulled up above your belt line, giving you a little pop of texture and edge between your jeans and the hem of your crop top. 
4. Fine fishnets are office-friendly – If you think you can't wear fishnets to the office, think again. While the wide edgy fishnets might not be the top choice for workwear, finer fishnets are perfect. It's classic, it's chic, and it's a look that can be dressed up or down if you plan on going out after-hours. 
5. Fishnet socks are made for booties – Pairing booties with a skirt is a classic combo, but you can sprinkle the look with easy edge just by pairing fishnet socks with the look. Fishnet socks that go to the ankle or knee, like the Intimidea Attraction Rete Fishnet Knee Highs with ankle boots let you get a little taste of the fishnet style without going all the way if you don't want to. 
Fishnets are a must in any hosiery wardrobe, and we have all the styles you need to embrace each and every look. Find your next fishnets now at Hosieree.com!