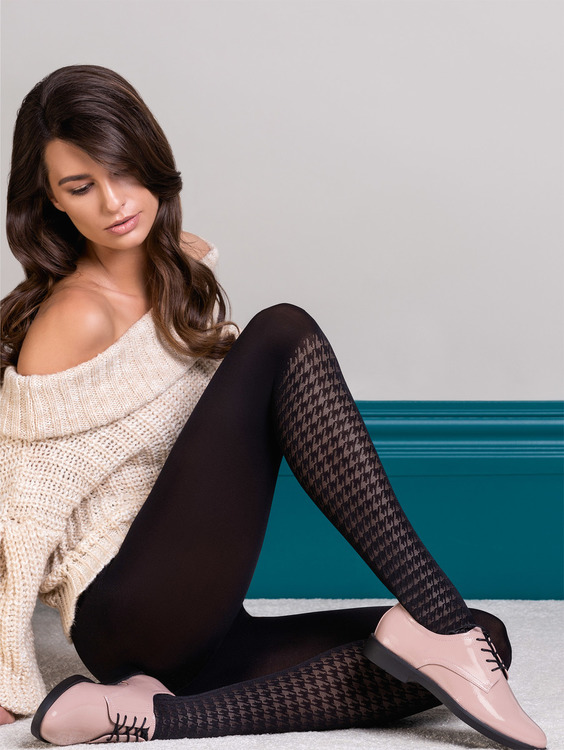 We have all heard of the little black dress, right? Well, we mustn't forget little black tights! We all have a few items we consider staples in our wardrobe, so why not have the perfect pair of black tights to go along with your other essentials? 
Black tights keep the legs looking great, hide any imperfections we may have and are incredibly versatile.
Tips for Wearing Black Tights
Opaque black tights are a staple for any winter wardrobe. They provide warmth without adding additional bulky layers and enhance your look, especially when paired with tall boots or a sexy pair of heels.
Higher Denier for Warmth
When choosing black tights, some find it best to go for thicker material. Thinner tights might draw attention to areas you would rather cover up on your legs. Darker and thicker tights tend to be more slimming and look a lot sleeker. Tights with a denier of 60 or higher are ideal for cold weather.
Gabriella Cloe Tights are a great winter tight option. They have a geometric pattern running from the knees to the toes, adding extra style. They are a plain deep black that contrasts well with the pattern.
Two-Out-of-Three Rule
You also want to ensure your tights look classic rather than frumpy. So, many people advise that you match the color of your tights to the color of your shoes or the color of your dress or skirt. This two-out-of-three rule is a good place to start as you style your outfit.
For a Legs for Days Look
If you want what is known as a "legs for days" look, then consider adding a pair of sheer black tights to your wardrobe. They pair well with short dresses and stilettos and give your legs the appearance of more length.
Hannah Tulle Tights by Trasparanze is a great option for this. They are sheer with a classic tulle effect. They have a very subtle fishnet-like appearance and offer a chic and elegant look that remains timeless.
Start Building Your Wardrobe Today
In addition to the options we have offered, head over to hosieree.com for more stylish black tights you can add to your wardrobe. You will find exactly what you need, from sheer options to thicker tights with a higher denier for fall and winter. There is a pair of black tights for every occasion and every season waiting for you.