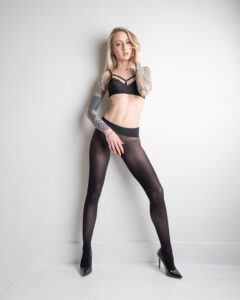 Don't you hate when a new pair of pantyhose ladders after the first wear? Or does it seem to loosen up after just a few wears? While pantyhose is indeed not indestructible, with proper care, it can last you months. 
Do's Of Putting Your Pantyhose On
Order The Right Size
While pantyhose is stretchable, it's best to find one that fits you well. Getting the right size for your body will not only make sure that the pantyhose fits correctly and comfortably but also allow it to last longer.
Our collections are available in sizes from XS to XXL to accommodate diverse sizes accordingly.
Trim Fingernails And Toenails
The major cause of premature laddering on pantyhose is sharp fingernails toenails. Nails and hard skin may get caught on the pantyhose while you put them on. Your toenails will also likely poke through the pantyhose while you wear it. So, it's best to keep your fingernails and toenails short and well-groomed.
In addition to trimming your nails, it's also good practice to use a lotion or balm to prevent the skin in these areas from becoming stiff and forming hangnails.
Wash And Store Your Tights Properly
Apart from being gentle when you take them out of the packaging, you should also be careful when you remove, wash, and store them. It's best to handwash your pantyhose to preserve its color and elasticity. Wash it with lukewarm water and a mild detergent, gently scrubbing only the areas that are most prone to bacteria (e.g., soles and crotch).
If you must use a washing machine, keep the pantyhose in a separate mesh bag and wash with your delicates.
Don'ts Of Putting Your Pantyhose On
Buy Cheap Ones
Cheap pantyhose are bound to tear up easily. Instead buy high-quality ones that are made specially to withstand regular wear longer. If you can, look for ones that are ladder resistant.
Tug On The Pantyhose
Be gentle when you handle your pantyhose. Don't stretch it unnecessarily hard, especially when you're putting it on. Slowly pull the pantyhose up each leg to avoid overstretching or laddering. Don't wear them like you wear your socks because they are not the same.
Force Them To Last Forever
No article of clothing lasts forever, especially pantyhose. Do your best to take care of them to make them last but once you see signs of laddering, accept that it's simply time to buy a new pair.
Get more tips from Hosieree.com.