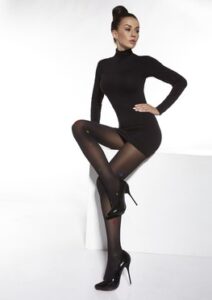 Do you have a few pairs of black pantyhose but are you unsure how to style them? We are here with a few great ways to wear your black pantyhose happily and confidently, no matter the season or occasion.
Plaid Skirt and High Heels
Sheer black pantyhose pairs well with a plaid skirt and high heels. You can create both style and character with this mix and match combo. While being fashionable, it is also a more professional look as well, making it perfect for any office setting.
Pencil Skirt and Boots
A pencil skirt paired with thigh-high boots and black pantyhose is another go-to for the office or any casual occasion. This ensemble is especially good for fall or winter when it is a bit colder and you want to add warmth to your wardrobe with something more subtle.
Black Dress and Boots
A black dress, boots, and black pantyhose happen to be a classic pairing that won't go out of style. For this look, add some fun accessories to bring the look together, add a pop of color, and highlight your style and personality.
T-Shirt and Denim
Looking for something more casual for a dinner out with some friends or to run errands around town? A t-shirt paired with your favorite denim, black pantyhose, and high-heel booties is a great look.
A-Line Skirt
Black pantyhose does mesh well with a variety of skirt options but is a big winner when it comes to an a-line skirt. This can create both a casual and professional look.
Printed Dress and Blazer
Ready for some monochromatic styling? Try a high-quality pair of black pantyhose with a black and white patterned dress and a black blazer with your favorite high-heeled shoes. Instead of the dress, you could also try out any printed skirt option, and you can still maintain more of a sophisticated vibe.
Converse Sneakers
For something casual, pair your black pantyhose with some Converse sneakers for an easy and effortless everyday look.
Black pantyhose really are versatile and make a good addition to any wardrobe for any season. They are a staple we all should have because they can be paired with so many things to achieve endless looks.
To get your next pair of black pantyhose, stop by Hosieree.com today to browse our selection of online hosiery.