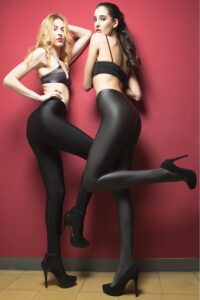 Opaque tights carry strong and bold vibes that can instantly boost your confidence. Wearing them is not the problem, but wearing them with what is the real question. While they come in solid colors, finding the perfect ensemble for opaque tights can be challenging. Lucky for you, Hosieree's long mastered the art of dressing up with unique tights!
Here are 3 fun ways to slay with opaque tights.
Wear Animal Prints – You might think that pairing your opaque tights with animal prints may be over the top. On the contrary, pieces like wet-looking tights can go boldly with patterns to create a fierce look. Animal prints are loud on their own, and with opaque tights being as eye-catching as tiger patterns, they would make you really stand out.
If you are worried about two strong styles clashing, don't worry because patterns and plain or solid designs actually complement each other.
Neutral Colors – If you want to tone it down a bit, wearing neutral-colored dresses and coats is the way to go. Neutral tones like browns and beige will highlight your opaque tights without them eating up your whole style. It's a well-balanced combination perfect for casual walks outside or quick trips to your favorite hangout places. You can also pair it with plain shoes and boots. Trust your opaque tights to make you glamorous on the streets. 
Make It Mono – Do not be afraid to try a monochromatic approach with your opaque tights. In fact, your opaque tights are the best piece of clothing you can wear for monochromatic fashion. Color blocking can be fun but monochrome has its own pros. 
For instance, it's fast and perfect for days when you are in a rush because you do not have to spend time deciding which colors go best together. Second, monochrome will definitely make you stand out without trying too hard. From your top, tights, and down to your shoes, you can brighten everyone's day.