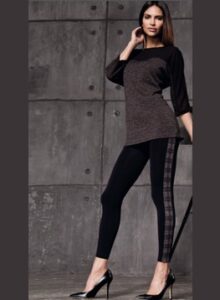 Going somewhere? One of the biggest challenges when planning a trip somewhere is choosing what wearables to bring. With the limited space available in your luggage, it is important to be smart about your choice of clothes. 
You will want something that can go with any accessories and something you can wear in any weather and occasion. When it comes to flexibility, here are 3 good choices from Hosieree.com that deserve a spot in your travel bag. 
Leggings – It does not matter if your trip is just to another city or on the other side of the world. Leggings can make your travel extra hassle-free because it gives you freedom of movement. It is also very comfortable to wear! 
A lot of unexpected things can happen when you travel. You may end up on a hike or a long walk, but with leggings at the ready, you can get through anything.
Tights And Pantyhose – Some travels are for important business meetings while some are just for fun. Whatever the case, your tights, and pantyhose have got you covered. They are one of the most versatile leggings that can fit any mood and theme when paired with the right outfit, like a dress or a skirt.
Socks – If you are looking for peak comfortability, then your socks are absolutely a must. What we like about socks is that you can wear this both for fashion, for comfort, and for protection. They can also be hidden, subtle, or flashy enough to complete and define your outfit for the day. 
What you wear factors in how much you will enjoy your vacation. The fewer things you worry about, the better!
The best part about choosing leggings, tights, pantyhose, and socks is that they are travel-friendly. You can easily fold them or ball them up without risking wrinkles, and they will not take so much space in your luggage.