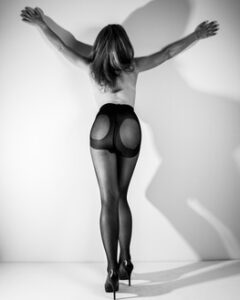 When choosing tights, there are a lot of options for control and support. These can help make your body look its absolute best. There are a lot of these features, so we thought we'd do a round-up of our three favorites. These tight features will help you show off your body and look snatched. Let's go!
1. Booty Lifting
Booty lifting tights have support around the top of the thighs. This helps lift your booty slightly, adding just the perfect amount of curve. This feature can be found on Calzitaly Bodysculpt Push Up Tights and the Cecilia De Rafael Panty Bra – Lift Up and Modeling Pantyhose. These are great if you are wearing a body con dress or a tight skirt, shorts, or trousers.
2. Tummy Shaping
Tummy-shaping tights are a must for any wardrobe. They don't just help achieve an hourglass shape, they can really help with stomach issues that benefit from light compression. Two great options for tummy shaping include Fiore Fit Control 40 Tights and the Glamour Positive Press 70 Control Top Pantyhose. We love these options because they both offer breathability for everyday wear with any outfit.
3. Leg Slimming
Leg slimming is a great way to make your legs look not only slimmer but to elongate them. Leg slimming tights are also great if you've recently lost weight or just need a little compression on your legs. We like the Pompea Taglia 100 Slimming Opaque Tights which offer overall slimming and the Pretty Polly Gloss Secret Slimmer Tights. If you're worried about cellulite, we also recommend the Pompea Snellente 40 Slimming Tights With Anticellulite Treatment. These are perfect for skirts, shorts, short dresses, and even under trousers.
These three hosiery features are perfect for highlighting your favorite parts of your body. Hosieree.com carries a wide range of hosiery that can help you look and feel your best. Whether you are looking for support, shaping, or style, you'll always look snatched.