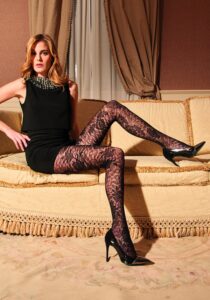 When we hear the word lace, beauty and elegance come to mind. There are many fashionable dresses that are designed with lace, but what about tights? What we can tell you is that there are many unique lace tights around, and Hosieree's even got the best of them.
We know that some ladies have reservations about wearing lace, especially when it comes to lace tights. Some are not used to this fashion style, while others are worried about matching it with the occasion. If you are still having second thoughts and need help deciding, we listed down 4 reasons why wearing lace tights is one of the best decisions you can make.
4 Reasons To Wear Lace Tights
Effortless Elegance – Lace is automatically associated with elegance and wearing one for formal dinners, parties, and galas will make you look effortlessly stunning and graceful. 
The best part is you can also wear lace tights even during non-formal events, like during casual walks in the park. For instance, the Transparenze Fenice Lace Tights are great for lively parties and club-hopping on Friday nights!
Timeless And Classic – Lace will never go out of fashion, and using it to decorate hosiery pieces like a pair of tights is just proof that lace will stick around for a long time. Lace tights will always be fashionable and as the trends change, you can simply pair them with various other clothing like dresses and slit skirts. 
Be Unique And Stand Out – Wearing tights, leggings, and stockings have been a normal practice for a long time. However, wearing tights decored with lace is certainly a unique take and a wonderful icebreaker to the monotonous hosiery choices you'll meet in the streets. Being different is good. Stand out and walk the streets with confidence in your lace tights. 
A Boost Of Femininity – If you are going for a soft feminine look, then lace tights are a must. Just as much it is perceived with elegance, lace tights also reflect femininity and softness. If feminine grace is what you are trying to achieve, then you will never go wrong with wearing lace tights.
Hosieree supports your efforts to be unique, graceful, and confident, and so we have made the most beautiful lace tights available for you.