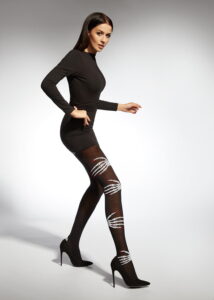 Times are changing and as we dive deeper into the modern era, you'll learn that is now about fully expressing yourself, creative freedom, and leaving a meaningful impression. One of the best ways we can express ourselves is through our fashion choices. This is also part of the reason why patterned tights are starting to pop up everywhere as more people wear them loud and proud. 
Here are 3 reasons why patterned tights also belong in your wardrobe and why you should not be afraid to wear them.
Patterned Tights Are A Fashion Craze – You might be starting to notice that lots of ladies in the streets are wearing bolder clothing, and patterned tights are one of them. While fashion is a good way to channel emotions and express your feelings, we cannot deny that patterned tights are also really fashionable. The unique design and colors have a unique and eye-catching appeal that's got many people curious and in awe. 
Different Patterns For Different Occasions – Sometimes, thinking of what to wear for an event takes a lot of time. You need to choose what colors and styles are appropriate, and which pairs of clothing will fit in with the theme perfectly. That is why people are also turning to patterned tights to make decision-making faster and easier. 
Patterned tights have their own theme, and you can get one that you think will match the event you are attending. For instance, wearing tights with hand bone prints is an easy choice for Halloween parties.
Creative Expression And Exploration – Patterned tights help many ladies slowly regain their confidence and boost their self-esteem. It helps them explore their options and try out new things that they might want for themselves. A good example is wearing tights with tattoo-like prints if they want to know what it is like to have one, or if they simply want it for temporary fashion.