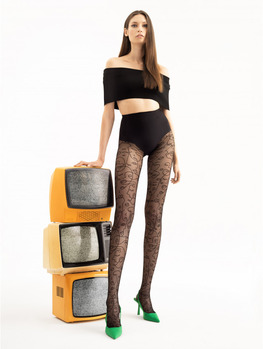 The right tights can really ramp up the sex appeal of any look, and we have just the hosiery you're looking for at Hosieree.com. While tights often have the reputation of toning down hemlines and making outfits more conservative, it's really all in the hosiery pieces you choose and how you wear them. 4 of the flirtiest tights we have for your fall wardrobe are: 
1. Fiore Faces Sheer Tights – These sheer black tights feature an all-over abstract face pattern that brings immediate interest, whimsy, and flirt factor to your look. For hip outfits to wear out to a gallery opening, or a date night in the city, the tights come in black and white and look equally stunning when paired with distressed denim shorts or an edgy mini skirt. 
2. Adrian Hearts Tights – Delicate and feminine, small hearts create an all over dot pattern on these sheer black tights. The size of the heart pattern ensures that plenty of sheer leg comes through the tights and adds just that small flirty detail you want to make your look subtly sexy. The Adrian Hearts Tights can be worn with a short hemline for a date night, or even a midi skirt at the office, making these a truly versatile must-have in any collection. 
3. Elly Mini Rete Fishnet Tights – What could be sexier than a classic fishnet? The Elly Mini Rete Fishnet Tights uses an ultra-small fishnet pattern for maximum versatility as well as sex appeal. Because the fishnet pattern is so small, it can be worn with any sort of hemline or outfit while simply acting as an enhancer of your look. Tailored short shorts and pumps for a date night, or a longer skirt for a professional event – the Elly Mini Rete Fishnet Tights can be perfectly incorporated into both. 
4. Elly Resille 70 – Fashion Tights with Support – Support tights are a woman's best friend and the Elly Resille 70 Fashion Tights with Support bring the lift, smoothing, and sex appeal you're looking for. With an all-over subtle diamond pattern, the tights in Nero, Chiaro, and Visone are sultry with the pattern extending all the way up the leg. Not only do they add a bit of flirtiness to your look, they also smooth and shape for a sexier silhouette. 
If you're looking to add to your flirty hosiery wardrobe, we have just what you need at Hosieree.com. Check out what we have in store to bring a touch of sexy to your looks this fall!