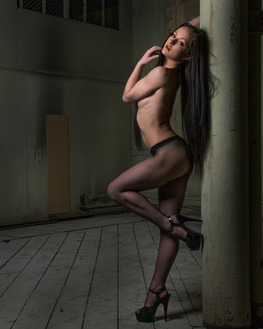 For most, shorts season ends around Labor Day. However, what if you can get a few more months out of your favorite pairs? Whether you're looking to extend your wear of distressed denim shorts, or you're trying out something new with a tailored pair you just love, the answer is in your hosiery. With the right hosiery, your shorts can be worn all throughout the fall, and they'll look impossibly chic and outside of the box. This trend hit really big a handful of years ago, and it hasn't shown a single sign of slowing since. 
Some examples of hosiery to wear with your shorts are: 
Elly Mini Rete Fishnet Tights – The perfect example of shorts-friendly tights, the Elly Mini Rete Fishnet Tights work with distressed denim for edgy rock n' roll looks, tailored looks, and everything in between. These tights feature a super small fishnet pattern, which makes them incredibly versatile in their style. These tights come in 4 shades and look just as great with satin tailored shorts as they do with torn denim and combat boots. 
Fiore Antonina Fashion Tights – With a touch of shimmer going up each leg in the form of a black and metallic abstract pattern, these are the perfect tights for dressing up tailored shorts for an elegant night out. In Nero and Grafite, the tights are opaque with a 40 denier, so they're ideal for taking your tailored shorts into the cooler late autumn months. 
Fiore Glam Rock Sheer Tights – The ultimate tights for bringing a key edge to absolutely any shorts look, Fiore Glam Rock Sheer Tights are a must-have in any fashion forward wardrobe. These sheer black tights feature an opaque and abstract large leopard pattern from the toe all the way up to the waistband on each leg, letting you get a little wild with your hosiery look. These tights are perfect for bringing a little particular edge to tailored looks in order to add instant trendy appeal. 
Whether you're going for something elegant and timeless, cute and trendy, or distinctly rock n' roll, we have just the hosiery you need to get that extra love out of your shorts this season. Check out what you could bring home to your wardrobe from Hosieree.com today.