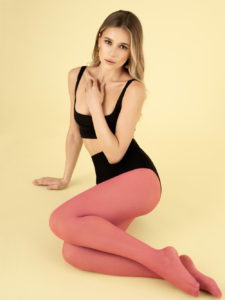 Most women have experience with black hosiery, nude hosiery, and perhaps white hosiery. While these are an excellent base to start out with, why not branch out into other colors of the rainbow? Hosiery enhances your looks, and just like you'd have many different colored shirts, skirts, or pairs of shoes, why not bring that kind of selection to your hosiery wardrobe as well.
If you're just starting out in making your hosiery collection a little brighter, there's a number of shades you might one to start out with to try out brightly colored hose. For your brights, going all the way bright is a great way to get fun while giving yourself something whimsical to work with. The Cecilia De Rafael Sevilla Libero Seamless Glossy Pantyhose in Lima and the Fiore Cotton Candy 8 Den Ultra Sheer Pantyhose in Lime are two great examples. Both in a bright, vivid, and electric green shade, you can play with this stand-out hosiery by first pairing with basic blacks, then branching out to dressing up more eclectic looks. These sheer hose are perfect for bringing that touch of pop color to tie your outfit all together.
While the electric pops of the Cecilia De Rafael Sevilla Libero Glossy Pantyhose in Lima and the Fiore Cotton Candy in Lime are bright and poppy, you can also make things a bit more dramatic with your colored hose. The Cecilia De Rafael Uppsala Wet Looking Tights feature a glossy and almost metallic looking finish in a high denier tight perfect for the darker fall and winter months. Blues, purples, greens, silvers, and more can be found in a look that puts instant drama and a chic edge into any outfit you put together.
As you get more comfortable playing with color, you might want to combine two trends in one with color and pattern. The Trasparenze Varanasi Fashion Tights, for instance, come in a selection of different colors while featuring a unique and abstract print that's easy to match in with different looks. Opaque and comfortable, they may even be used to bring your favorite tailored shorts into the fall and winter months.
Playing with color is something we love at Hosieree.com. If you're interested in bringing a little brightness into your hosiery wardrobe, see what we have in store today.