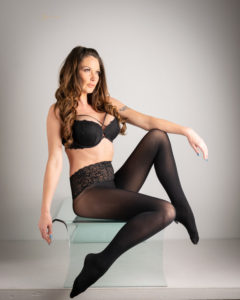 Seamless wearables are becoming the trend now and of course, here at Hosieree.com, we also have seamless tights for you to try on. Wearing seamless tights actually comes with benefits and we are going to share them with you.
Say Goodbye To Chafing – With the absence of seams and stitches, you can enjoy being chafe-free for the whole day while wearing your seamless tights. Chaffing is often a common problem by ladies who wear ordinary tights as the seams and stitches tend to rub on the skin and irritate it, thus resulting in chafing. 
More Accurate Fit – Seamless tights are designed to fit your body perfectly. Without the stitches, you can expect the fabric to flow against your legs smoothly. There are no folds and bumps that usually come with seams and ordinary stitching.
Breathable And Comfortable – If you are regularly working out or if you love to use leggings when doing errands, you would be grateful to have a pair of seamless tights as they are designed to be more breathable. Seamless tights have the ability to control moisture and are often made with mesh, which makes the clothing breathable. 
Fewer Chances Of Tearing – Tearing almost always starts with seams and stitches. Luckily, seamless tights are void of any seams and stitches that are prone to tears. In addition, the fabric is also lightweight and made to feel like a second skin, which means that it is designed to follow your movements with ease and without the risk of tearing. 
No Awkward Bumps And Marks – When wearing regular tights, ladies tend to partner it with oversized tees and hoodies to cover the entire hip area where the outline of the seams and stitches are most visible. The stitch marks that run along the side of our legs down to our ankles are also not pleasing to look at. With seamless tights, as mentioned above, you can expect a smooth and flawless finish.
It is important to also think about comfort when choosing what to wear. Seamless tights not only are trendy and fashionable but they are also made with the wearer's comfort in mind. Pay us a visit at hosieree.com and we can help you choose the best pair for you.