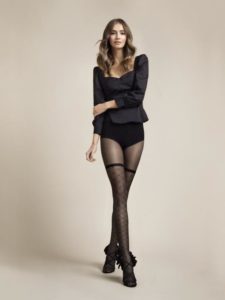 We know that black can be paired with any color but we can always do better than just random tops and shoes to go with it. A simple ensemble with black tights and leggings can still be effortlessly fashionable and we are here to show you how! 
Take note of these 4 tips to be extra glamorous with your black legwear:
Wear Closed Shoes – Black is naturally an elegant color and pairing it with closed shoes, which are usually worn in formal settings, amplifies the sophisticated effect. Black tights and leggings that are worn with closed shoes, whether they're flats or heels, can pass off as semi-formal wear that you can wear for dinners, parties, and even casual get-togethers. 
Black-On-Black – Wearing an all-black ensemble is such a powerful move and despite the monotone style, you are bound to turn heads and attract attention. Put your hair up in a simple updo, choose a plain black top like a fitted shirt or a turtle neck, and throw in a pair of black heels or boots to complete your head-turner outfit. It's like you jumped out straight from a fashion magazine!
Dress Boldly– Speaking of colors, you should also take note of the other colors that match black the best. White, gold, red, and silver especially stand out and shine when worn with black clothing. In this case, you can wear shoes, shirts, coats, and even accessories that are white, gold, silver, or red and they will all automatically be highlighted in your outfit.
Black Tights With Other Bottoms – Ripped jeans are usually paired with fishnet stockings and thigh highs. What many may not know is that they also look good when worn with black leggings or tights underneath! Not only is this an easy fashion choice but it is also really practical especially when the cold weather is approaching. What a fashionable way to keep ourselves warm!
Black tights are a staple and if you haven't got a pair yet, https://www.hosieree.com/ has got you covered.