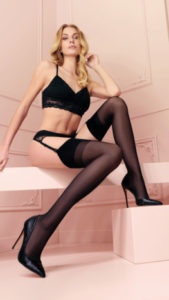 Stockings are back in a big way this season and were seen in looks all over the runways of Paris, Milan, and New York. We saw classic tweed pieces paired with thigh-high sheer white stockings in Paris. Milan runways featured knee-high sheer black stockings layered under ankle boots. While designers in New York showed jet black thigh high stockings with textures. Luckily, you don't have to pay fashion house prices to add these trending looks to your closet.
What Is The Difference Between Pantyhose And Stockings?
People often use pantyhose and stockings interchangeably. However, there is a major difference between the two garments. Pantyhose are sheer and usually made of nylon with a denier weight between 8 and 30. They cover the full leg from the toe to the waistband. Stockings on the other hand can be sheer or opaque and range in denier weight. The key difference though is stockings vary in length between under the knee to mid-thigh. They are either secured with a garter belt or have a lining at the top to hold them in place.
Get The Look
Now that you know the difference between pantyhose and stockings, here is how you can get the runway looks. These options offer the same high-end designer quality but at a much more affordable price point:
Trasparenze Sara Classic Sheer: These sheer stockings have a denier of 20. They also have a reinforced toe and a glossy finish which makes them a perfect wardrobe staple. They come in a variety of colors to achieve the perfect look.
Elly Knee-Highs 140 Semi-Opaque: Available in black and two shades of nude tones, these knee-highs are a perfect way to capture the looks of the Milan runways. They are semi-opaque with a denier weight of 140. Great for everyday wear, these knee highs have a graduated compression that slims the legs and provides a comfortable wear.
Fiore Malena Suspender Stockings: If you are looking for a statement piece for your wardrobe, these sheer spotted tights are a must-have. Available in a gorgeous shade of ecru, they will easily match any outfit while still adding a bit of interest.
These three options are just some of the great choices available at Hoisieree.com. We offer a full range of stockings in every color, size, and denier weight you can imagine. All of our stockings are European-grade, so they are durable and will last you through this season and many more. The best part is they are affordably priced so you can get runway looks without runway prices.