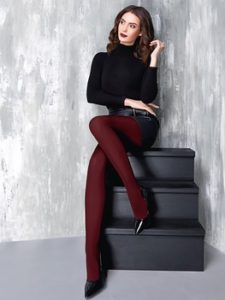 While we're in the peak of summer now, what that really means is that we're going to be winding down into the fall season before we know it. The fall fashion trends for 2021 are big, bold, and ready to be seen after a year of social isolation, and we at Hosieree.com are loving so much of what we see. Here are 5 Fall 2021 fashion trends to invest in now are:
1. Bright greens – While fall is usually full of muted colors and rich earthy tones things are slated to be quite a bit bolder this year. Bright green is one of the fashion staple shades of the season and it's being seen in coats, sweaters, shoes, and even hosiery. Our Giulia Blues 70 Opaque Tights in Olive have that perfect mix of earthiness and brightness, making them not only a staple for 2021 but a pair of tights you can return to again and again.
2. Lilac – Like bright green, we're seeing another color that's more often seen in spring popping up for fall fashion in 2021. Lilac is the new mauve this season and we think that the perfect way to welcome this shade into your autumn wardrobe is with elegant hosiery. The Fiore Sandrine 20 Stay Up Stockings in Light Lilac are sexy and timeless with heels, but they can also be quirky and fun with booties and a patterned skirt.
3. Leopard outerwear – Like color, patterns are getting bolder this year as well. Leopard outerwear is seeing a huge resurgence in 2021 and we love the way a great leopard coat looks with a skirt and fishnet hosiery. Paired with heels, boots, or even sneakers, it's the simplest way to have a stand-out edgy look with minimal effort.
4. Sweater vests – Sweater vests haven't been seen as a huge trend in a number of years, but they're back in a big way for fall 2021. For a modern take on a classic look, you can pair a sweater vest with a collared shirt, sleeves casually rolled up, and on the bottom wear a simple pair of tailored shorts with the fishnet, patterned, or colored hosiery of your choice. What you get is an on-trend look that combines texture, fabric, and style for plenty of interest.
5. Cut-outs – In tops and pants, cut-outs are bringing a certain edge to all sorts of outfits in 2021. For distressed jeans, one can try layering fishnet hosiery under the jeans so the hosiery peeks out to say hello at each cut-out section. Pair with combat boots or heeled booties for the perfect touch.
At Hosieree.com we have all of the looks to bring your 2021 autumn fashion to the next level. If you're looking to invest in your fall looks, see what we have at Hosieree.com today.