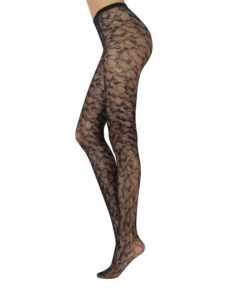 For many events, you may know that you should wear hosiery, but you're unsure of what type of hosiery will be most appropriate. At Hosieree.com we want you to get completely comfortable playing with and enjoying your hosiery, so we want to give you a good foundation to choose from when it comes to what type of hosiery fits an occasion best. Some ideas for choosing the right hosiery for any occasion are: 
Date night – Date night is where you really get to have fun with your hosiery. We love the idea of fishnets for date nights, and you can go classic and sexy or try something a little edgier if you like. The Calzitaly Fishnet Tights with Leopardo Pattern are an edgier fishnet hosiery option with a pattern that looks great with tailored shorts, distressed jeans, short skirts, and more. With great versatility, they're the fishnets you can reach for again and again. 
Professional events – Professional events call for professional hosiery. Opaque hosiery in the fall and winter in dark colors, sheer black hose in the warmer months, or natural toned sheer hosiery are failsafe options. If you plan to be wearing trousers or slacks, knee-high hosiery keeps your refined look as well as your comfort. The Elly Knee-Highs 140 Semi-Opaque Support Knee-Highs even feature gradual compression to keep legs comfortable all throughout a day behind a desk. 
Weddings – Weddings are a major event for hosiery, and you can really have some fun with your looks depending on the ceremony and celebration. For summer, you'll want to opt for an ultra-sheer pair of pantyhose with an open-toe design, but fall and winter weddings let you have a bit more fun playing with your style. For nighttime weddings, something with a little sparkle or embellishment adds elegance to your look, and for low-key or whimsical weddings, bold patterns can bring a ton of fun. 
At Hosieree.com we carry the hosiery you're looking for no matter the occasion. From date night sexy and chic, to a refined and professional look, you can find it when you browse our stock at Hosieree.com today.