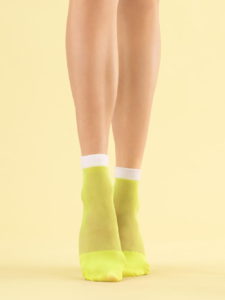 Many of us are always on the move and it is only right that we should have a pair of socks that can keep up with our hustles. At the same time, we should always keep ourselves fashionable, trendy, and of course comfortable! Here are five socks that check all on that list:
1.       Juicy Lime Ultra Sheer Ankle Socks – If you are a fan of bright and lively colors, you would love the Juicy Lime Ankle Socks. Its white cuffs are a gentle yet nice contrast to its vivid yellow hue, making it perfect for casual wear and sportswear. The white cuffs are also soft and comfortable so you would not worry about feeling any discomfort while wearing them as you move around.
2.       Fiore Dreamer 40  Den Socks – This pair will provide you with just enough cover to keep the chill at bay. Because it stretches up to the base of your calves, it can be worn with shorts or skirts. The dark color also makes it flexible enough to pair with any color combination of your outfits. Our recommendation is to match it with something bright to make a nice yet fashionable contrast.
3.       Cotton Liners Sport Socks – Out for a quick jog, a stroll, or other sports? You would want to own the Cotton Liners Sports Socks. They are specially made for all-day comfort. The socks are soft and breathable so you can move with extreme ease. To make things better, it comes in different colors. Ladies who love simple and neutral tones can stick to black and whites, while women who are looking for a colorful set can get the rainbow collection.
4.       Pompea Mandy Fancy Cotton Socks – These cotton socks only go up to your ankles and if you are more focused on experiencing comfort, then the Pompea Mandy Fancy Socks are for you. They can also easily be hidden within your pair of shoes if you want to stay discreet or if you think socks do not go well with your outfit.
5.       Trasparenze Marta Microfiber Socks – For a more feminine touch, the Trasparenze Marta Microfiber Socks are your go-to. It comes in opaque colors that can be matched with your elegant and classy outfits. More importantly, it is soft and comfortable so you can wear it with your high heels and flat shoes.
Socks are made for comfort but that does not mean they cannot also be fashionable. Hosieree.com is home to beautiful and comfortable pairs for ladies who are leading an active lifestyle.