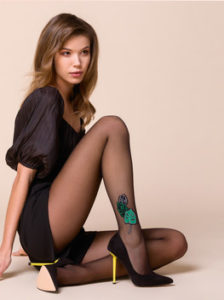 When it comes to looking fashionable, a lot of people fall into the trap of focusing too much on a single piece of clothing. Whether it be a fancy blouse, a designer skirt or dress, many think that a single branded piece of clothing makes an outfit. 
We often forget that a great outfit is made up of an ensemble of pieces that complement each other. You can have the simplest top paired with a pattern skirt, and all you need is to accessorize to make the combo glamorous. And out of all the accessories you can use to accentuate your look, well-chosen hosiery can give your outfit a subtle sexy edge.
Here are some of our favorite styles from Hosiree.com, handpicked to add a little spice and polish to your everyday look:
Classic Fishnets
Want to add some sass to your getup? Fishnet thigh highs are your best bet. We know that fishnets can be overtly sexy (nothing wrong with that!). With the right pairing however, these stockings can lend a subtle air of edginess to an otherwise plain outfit.
Try slipping on a pair of thigh high fishnets with a tame-looking dress or plain shirt and skirt combo. The contrast will give your outfit a curiously coquettish look without going over the top.
Playful Polka Dots
For a fun yet polished look, we recommend polka dot tights or thigh highs. Matched with a cute blouse and a solid A-line skirt, polka dotted hosiery give a playful zest to your whole vibe.
Give this look a go on casual Fridays at the office. It's also a perfect look for smart casual occasions and parties.
Experimental Printed Tights
If you're feeling a little bit experimental with your wardrobe, give printed tights a try. In particular, tights with colored prints or decorative patterns on them can definitely make your outfit feel saucier.
It doesn't need to be a bold print either. The Gabriella Tights Verde, for instance, have a lovely Monstera leaf accent strategically placed near the ankle. The splash of green immediately calls attention—not so much as to distract eyes away from your entire outfit, but just enough to show off your heels and legs. This look achieves a great balance between classy and sexy. 
The Monstera leaf itself is quite a charming detail that can help you stand out in a fancy party or a classy club. Who knows, it could even be a conversation starter. Experiment and have fun with this look!
Sleek Sheer Stockings
Feeling a little drab in office attire? Try putting on some sheer stockings to give yourself a little moxie. You can't go wrong with classic black or see-through nude stockings in the workplace. They're perfectly professional; yet still add a little sexiness to your vibe.
It's a perfect look for the boardroom. It might even give you a confidence boost when you're leading a presentation or speaking up at an important meeting. In any case, wearing sheer stockings is an easy way to punch up a tired looking corporate wardrobe, giving you a sleek professional vibe.