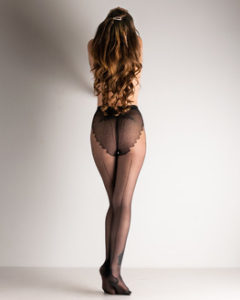 You'd be surprised at how the smallest details can bring big changes to your fashion choices. Take the Cuban heel for example! If you are not familiar with this style, take this opportunity to know about the Cuban heel and the wonders it can do to your body and fashion. 
What Is A Cuban Heel?
Cuban heels are the seams at the heel of your tights that are darker in color compared to the rest of the tights. They also come in a rising form, narrowing on the way up into a flat or square end. Cuban heels are often overlooked because they are located behind your legs, thus causing you to miss out the opportunity to flaunt them properly. So how exactly are Cuban heels fashion game changers?
Look Long-legged
 Wearing heels can make your legs appear longer. The back seams that stretch up from the bottom of your Cuban heel pantyhose until it disappears up and underneath your dress, make it look like there is still much leg space available. It also helps that the pantyhose is able to give your legs a form-fitting hug that also makes look long and slender.
Slender Ankles
Speaking of slender, Cuban heels can also give you the subtle sexiness that slender ankles can bring out. Hosiery pieces like thigh highs are known for being chic and seductive. Adding in a Cuban heel that low-key highlights your ankles and makes them look slender completes the soft and sexy look you are aiming for.
Mysterious Beauty
Cuban heels often come in black-colored stockings, tights, and thigh highs, but black is not the only sexy color around. Preferring nude colors will not exempt you from enjoying the magic of the Cuban heel style. It offers an even subtler touch compared to black hosiery but the back seams are noticeable enough to give a mysterious effect, especially with the added sheen just like this nude back seam tights.
Cuban heels teach us not to ignore the little details because they are what makes us stand out. If you think you are ready to change the game, you can find Cuban heel styles at hosieree.com.