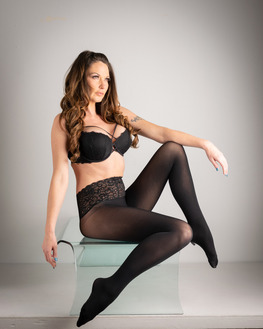 If you are looking for a fun and stylish way to make a fashion statement, then color blocking is something you may want to consider. It is a very versatile approach, making new strides with your current wardrobe. Today we will look at what color blocking is exactly and how you can take hold of this trend.
What Is Color Blocking?
Color blocking is when you take colors that are different from each other and then pair them together to create new combinations that both contrast and complement each other in all the right ways. Many have used the color wheel as their inspiration and guide in color blocking, but don't be afraid to step outside of the box and choose the colors you want.
Colored opaque tights, for example, are becoming increasingly popular for this particular style.
The Look of Color Blocking
When you color block, it can take your outfit from drab to fab in a heartbeat. You will soon find that the color combinations you can choose from are virtually endless. When choosing your colors, just make sure that the contrast between them is sharp and makes a statement. You don't want to mix pastels and shades that are the same color.
Color Blocking with Tights
When you want to add some color to your outfit, the tights are a great place to start, especially if you want to try out color blocking. You can match the tight color to your shoes, and this combination can go a long way in lengthening your legs.
You can also play around with different textures for an even bolder look. Ribbed and cable knits can be found in colored opaque tight varieties. Or you can choose more traditional patterns like plaid or a classic black or white.
A black skirt, plaid tights, and black shoes, for example, is a great look that you can use for everyday wear. When choosing your tights, just make sure that you are getting the contrast you need to make your color blocking that much more effective.
For some inspiration and to find new tights to add to your collection, don't hesitate to visit hosieree.com today. 
We have a vast selection of tights in several colors, textures, and patterns that you can choose from to build up your wardrobe and make a statement every time you leave the house.