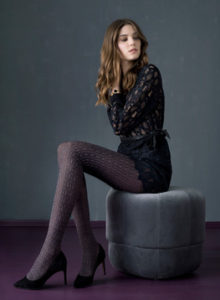 Plain thigh highs and stockings are timeless classic pieces and are often chosen to match different outfits. But did you know that decorated pairs are just as flexible? The next time you are looking for something to go with your outfit of the day, consider a breakaway from your usual plain go-to's and glam up with decorated hosiery pieces.
Here are the top decorated thigh highs and stockings that we think are perfect for your every outfit.
Polka dot patterns never fell out from the top trending fashion styles for years and this reason alone makes it the perfect combination with anything you wear. With polka dot thigh highs, you can be chic and playful while also being elegant and classy at the same time.
Feeling especially feisty? Our fishnet tights with Leopard patterns ought to do the trick! While this animal print can be bold, you would be surprised with how well it goes underneath skirts and dresses for formal occasions, and how it perfectly completes a late night party ensemble underneath denim shorts and ripped pants.
Floral patterns are known to be cheerful and bright but they can also be seen as sensual and classy. Whether you are out for casual business or getting ready for a romantic date, Hosieree's pair of stocking imitation tights has got you and your legs covered.
This sheer thigh high stockings with a rose pattern on the calf part will make anyone look dangerously sexy and daunting. This pair is another flexible piece that you can wear both for formal and casual occasions, whether you are attending dinner parties, dine out with friends, or an all-out celebration. Tattoo lovers who cannot get a tattoo just yet are also bound to love this piece.
Not yet ready for the brave and the bold? The simple opaque patterns on our microfiber tights can get you started on your journey from plains to patterns. It is subtle and carries an aura of gentleness and comfort.
Decorated thigh highs and stockings are nothing to be afraid of. If you want to explore and try other patterns, visit us a hosieree.com and checkout our whole collection of fine and high-quality legwear.