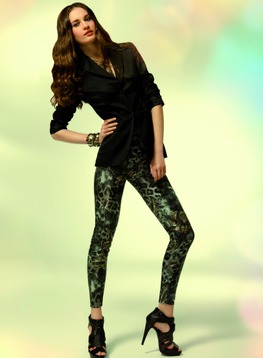 One of the biggest requests in the fashion world is learning how to style your leggings the right way. If you have been afraid to pull out your favorite leggings out of fear that you aren't wearing or styling them the right way, then you have definitely stumbled upon the right place.
Today we will talk about 4 ways to style your leggings to give you back that power and confidence you should have when it comes to your wardrobe.
1. The Look of Denim
Denim is a classic look that is still being embraced today. If you are a lover of all things denim, then pull out those leggings and make a pair to remember. You can pair black leggings with a colorful t-shirt, denim jacket, and sneakers. Or you can dress up the look by pairing black leggings with a tunic and a darker wash denim jacket with your favorite heels or wedges.
2. Pull Out the Leather
A bit more daring? Then pull out your favorite leather leggings and pair them with an oversized sweater for comfort and style. Accessorize to dress up this look with a long necklace and your favorite pair of heels. A long, silky top or another shirt that is long enough to work as a dress are also great choices for this look.
3. How To Be More Versatile
Leggings are a great wardrobe staple because of their versatility. So, learn how to wear that one pair of leggings in multiple ways to stretch your wardrobe even further. A flared dress, belt, leggings, and wedged heels is a dressy way to rock those leggings.
A blazer, fitted dress, leggings, and pumps make a great casual work outfit. And a fitted skirt, oversized sweater, leggings, and ankle boots make for the best autumn/winter attire for everyday wear and comfort.
4. Don't Be Afraid to Stand Out
Have a bold pair of leggings like sequined gold or a reptile skin pattern? If you want something bold, sparkly, shiny, or fun for a night out, pair your leggings with a sleeveless top and a more conservative jacket, and you are sure to stand out.
As you can see, this is just the tip of the iceberg when it comes to styling your leggings. With various colors, styles, and patterns in your wardrobe, the possibilities are endless.
Visit hosieree.com today to find your next perfect pair of leggings.