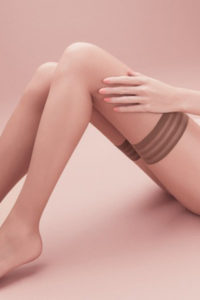 We have all probably heard legging and tight horror stories over the years. Maybe someone was wearing leggings that were just too see-through, or they paired their legwear with the wrong top. When wearing leggings and other legwear, the key is knowing when and when not to rock this style.
Today we will look at the more controversial side of leggings and tell you how to properly wear your favorite legwear.
Know the Difference
The first step in wearing your legwear correctly is knowing the difference between the different types. 
Tights: This is a piece of clothing that is often made of a thicker material compared to pantyhose and fits closely over the feet, legs, and waist. 
Holdups: These are stockings or tights held up by sticky material, elastic at the top, or straps. It allows you to achieve the look of tights without having a tight band around your hips. They are comfortable to wear.
Leggings: These are often considered tight and form-fitting and extend from the waist to the ankles. They can be made from various materials, including Lycra, nylon, cotton, or a polyester-cotton blend. 
Stockings: These are often made from a more translucent material and often refer to thigh highs and nylon stockings. They fit closely over the foot and are often held up by garters or a strip at the upper thigh. Holdups are closely related to the stocking. 
How to Wear
Each of these legwear types is certainly a staple for our closet. Leggings are often touted as the most comfortable, but many don't qualify them as pants. So, we need to be careful about how and where we wear this wardrobe staple.
Leggings
When choosing to wear leggings to work, for example, be sure to pair them with a great top. Leggings are form-fitting, so balance that out with a loose-fitting shirt and cover your behind while hitting your lower thigh area.
Tights
Tights are a great way to show off your legs and look great with a dress or skirt. Match your tights to your skirt or dress or even match them to your shoes. For a classy and elegant look, pair your plain tights with a black dress and heels.
Holdups
These can be worn when you want to glamorize an everyday outfit. However, keep in mind the length of the dress or skirt you are wearing with them. It needs to be long enough to cover the holdups' top when you are sitting and standing.
Stockings
Stockings are good for tummy trimming, making a fashion statement, dressing up, or showing off the legs. However, the same kind of rules apply here as they do with holdups. Make sure what you wear covers the top part of the stockings while sitting or standing.
Need more ideas, or you are on the hunt for the perfect legwear? Visit hosieree.com today to browse our amazing selection.