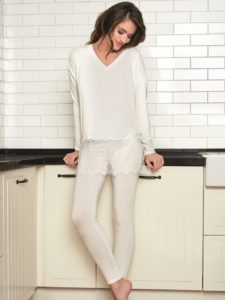 With the emergence of COVID-19, we have all been wearing our loungewear more often than usual. That is because loungewear and pajama sets are ideal for social distancing. They help you stay comfortable, but they are stylish enough that you still feel elegant while working around the house.
A classic pajama set is a wonderful gift idea. However, a luxury set that is made of indulgently soft materials and comes in a chic design is even better.
Why Give Pajamas For Christmas?
Pajama sets make a great gift for a number of reasons. First, nearly everyone wears them, so you do not have to worry about your relative or friend never using the gift. Second, since they come in general sizes like small, medium, large, and extra-large, there is no need to fuss about getting the exact fit. They are also affordable, so even pajamas of the highest quality are within your means. Finally, pajamas let you give the gift of comfort, which is something everyone can appreciate.
Our Favorite Luxury Pajama Sets
Although there are many reasons to gift a set of luxury pajamas, it can still be a bit tricky to pick the right pair. Here are our favorites to get you started:
The Best Pajama Sets On The Market
Pajamas make an excellent gift, especially if they are of the finest European quality. All of the pajama sets available on Hosieree.com are hand-selected for their superior characteristics. Whichever set you choose, you will be sure to delight the receiver. Check out our full selection of pajamas, and let us know if you have any questions or need help selecting the right gift.