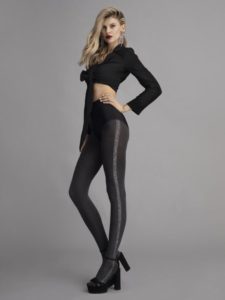 Fall 2020 has been a fun season for fashion. The looks are a combination of upgraded elegance, classic femininity, and funky street styles. No matter what style you prefer from the Fall 2020 runways, Hosieree.com has the right piece to keep you fashion forward. Here are some of our favorite trends to try this year.
Metallics
Metallics are everywhere this season. Found on the runways of Michael Kors, Alexa Chung, and Isabel Marant, these sparkly looks are great for day and night. To get this look try the Cosmo 40 Tights silver metallic tuxedo stripe or Brunello Lurex Tights gold metallic diamond pattern. Adding a little sparkle will help you stay on trend and feel great.
Plaid
Plaid is having a serious moment right now. Balmain, Burberry, and Marni all sent fashion forward plaid looks down the runway this season. Plaids ranging from a classic tartan to funky geometrics are designed to be layered this season. Start with the basic plaid pattern of the Rox Geometric Pattern Tights and throw on your favorite plaid shirt, dress, or flannel shirt.
Bows
Girlie girls are having their moment right now as nothing is more delicately feminine than a sweet bow. Designers including Chanel, Valentino, and Tom Ford all featured bows heavily in their Fall 2020 collections. Bows can be worn on blouses, dresses, and even stockings like the Et Class Pantyhose With Cuban Seal And Back Seam.
Jewel Tones
Rich, elegant jewel tones are the color palette to wear this season. Designers including Jason Wu, Celine, and Christian Siriano all had rich jewel tones. Colors like teal, violet, and emerald green dominate this season. To really master the runway looks consider the Uppsala Wet Looking Tights. If you want something less fashion forward and a bit more understated, try the Miranda Opaque Thigh Highs.
Lingerie As Daywear
Lingerie as daywear is back thanks to Saint Laurent, Versace, and Dion Lee. Corsets, night gowns, and belted stockings are paired with our favorite daywear pieces for a fresh new way to wear these staples. We have a wide variety of stockings that can help you easily achieve this look.
Achieving all these Fall runway looks is easy and affordable with Hosieree.com. We have the latest in European hosiery trends to keep your wardrobe looking fresh every season. Check out some of these options and let us know what's your favorite Fall 2020 trend. We'd love to hear about you recreate your favorite Fall runway looks.