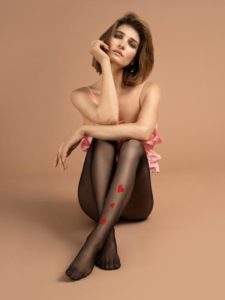 Hosiery that is too big will be prone to slipping, and hosiery that is too small will be prone to runs, tears, and premature fiber breakdown. While a pair of jeans or a sweater may work in a slightly "off" size, hosiery is a bit different. It's extremely important to find your correct size in hosiery, and there are a few tips and tricks to help you to do so more easily. Here's what you need to know about getting the right size hosiery:
Sizing May Differ – Like with other types of clothing, hosiery sizing will differ across brands, fabrics, and types. Your size in the Alba Chiara 40 Tights might be completely different than your size in the Blind Date Sheers, and that's okay. When shopping for pantyhose, it's important to look at individual size charts for the pairs of pantyhose you're interested in and go by each chart to find your perfect size. At Hosieree.com, we provide accurate size charts for all of our pairs of hose so you can go for your ideal size with ease.
Go Bigger – In some instances, you might find that you're in between sizes on a size chart, but that doesn't mean you need to skip over that perfect pair of hose. When you get in that kind of situation, it's always recommended to go with the slightly large size over the slightly small one. When hosiery is too small, the fibers are put under constant stress, and a delicate pair of hose will wear out too quickly. You can always fix hosiery that is slipping, while a pair of hose with a large hole might be deemed irreparable.
Don't Go By Look – If you're checking a pair of hose and you think it looks too small, that might not necessarily be the case. Hosiery of different materials and fabrics can stretch, and it's important to try the hosiery on before deciding if it's a "no" or a "go."
When you find the right hosiery, you'll never want to let it go, and we have just what you're looking for at Hosieree.com. Each pair of hose we offer features a sizing chart as part of the product description, allowing you to see what size is the best fit for you no matter what pair you're interested in. To find out what size you may be in your favorite hose, check out what we have at Hosieree.com today.