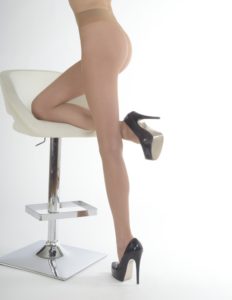 You might have plenty of fashion hose options, several pairs of tights, and a wide range of stockings, but do you have that key pair of nude hosiery yet? Nude hosiery should be a staple piece in any wardrobe, but too many women feel intimidated by the idea of it. Nude hosiery is seeing a huge fashion resurgence and has been for a number of years, so there is no better time to make that investment in your wardrobe.
Summer is the perfect time to look for sheer nude hosiery, and you'll quickly find just how comfortable and versatile those pieces really are. If you're looking for summer hose, we suggest trying the Aura 5 Den Invisible Sheer Ultra Summer Pantyhose first. If you're still not convinced, read on to discover 4 reasons to invest in nude hosiery right now.
They Always Match – One of the biggest issues many have with opaque tights is matching them. Fashionable colors and styles are ultrachic, but how do you pair them with all of your outfits if you don't have any confidence in your hosiery pairing abilities? Nude sheer hosiery always matches, and it lets you get more comfortable with hosiery styles before you can move on to trendier, more fashion-forward pieces on the market.
Your Legs But Better – Nude hosiery is practically invisible, and there are nude shades you can find for all skin tones and needs. What you get is a "your legs but better" look that allows for easy enhancement.
That Touch Of Warmth – Nude hose doesn't only come in the ultra-sheer variety, so you can make use of a pair in the fall and winter months as well. Choosing nude hosiery with a bit of a higher denier gives you enough layering with a subtle and understated elegant look.
Get The Royal Look – Nude hosiery came surging back into fashion in 2011 after the big royal wedding. Ever since that event, it has become a key part of any elegant day or night look. When you wear nude hosiery, you automatically get a touch of royal sophistication that's often hard to achieve.
At Hosieree.com, we have the ultra-sheer and opaque nude hosiery pieces you're looking for to really enhance your wardrobe during any season. If you're in search of your perfect pair, see what we have in store for you at Hosieree.com today.