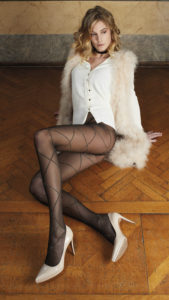 Runs and tears pop up in your hosiery seemingly without warning, and it's the most disappointing way for a pair of hose to get ruined. While there are some obvious things you can do to avoid runs and tears, such as keeping your fingernails clipped and filed, there are other tricks many women swear by to keep their hosiery in good shape. A few easy ways to prevent runs and tears from in your hosiery are:
Moisturizing – If your skin is a little dry, you create unnecessary friction for your hosiery. It will be tougher to put on a pair, and you'll be working the fibers a little too hard each time you pull the hose up or down. Before putting on hosiery, make sure to moisturize your legs, allow the moisturizer to soak in completely, and then slide your hosiery on gently. You should feel a dramatic difference in how easily your hosiery glides on.
Freezing it – It might seem odd to put hosiery in the freezer, but some women swear that freezing strengthens the fibers. To freeze your hosiery, slightly wet the hose, squeeze out any excess moisture, place the pair in a plastic bag, and put it inside the freezer overnight. In the morning, take your hosiery out and allow them to warm to room temperature before putting them on.
Keeping nail polish and hairspray in your bag – In some cases, runs and tears are unavoidable. For instance, you're in the office and you bump into the sharp edge of a filing cabinet, only to look down and see a tear in your hose. When that occurs, you don't have to sit back and watch the tear grow larger. As long as you have a travel bottle of extra hold hairspray and some clear nail polish in your bag, you'll be ready to protect your hose anytime. Paint a layer of clear nail polish along the edges of the tear, wait for the polish to dry, and then spray the entire area with extra-strong hold hairspray.
When irreparable tears and runs do occur, we have just the hosiery pieces to replace the favorites you've lost. We have high-end European hosiery of all kinds, so there's always a new pair to fall in love with. To see what we have to offer, check out our product line at Hosieree.com today.