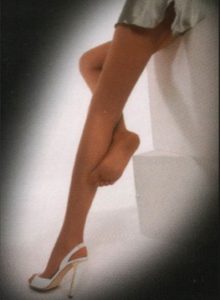 If you want to get the most out of your hosiery, you need to learn a few hacks that will allow you to do just that. Hosiery doesn't just make you look good but also serves a function that no other clothing piece can. It slims you, perfects you, and adds elegance and style all at once. To have an even better experience with your favorite pairs of hose, here are 4 hosiery hacks that you can try today.
Go non-slip – When you wear your summer hose with strappy sandals, you might find that your feet tend to slip around a bit more with the soft fabric of the hose on the soles of your feet. This hack is a favorite of none other than Princess Kate Middleton, and it's the non-slip grip. Non-slip sole pantyhose ensure that your feet stay put in your favorite footwear. Our Acapulco 7 Non-Slip Sole Pantyhose are both ultra-sheer and toeless, so they go perfectly with every piece in your summer wardrobe.
Keep a dryer sheet in your bag – If you've ever run into the "sticky skirt" problem, you're certainly not alone. At times, your pantyhose can attract a bit of static electricity, causing some fabrics to stick to them as you walk. A quick and easy fix involves rubbing a clean dryer sheet on the statically charged areas. This only takes a couple of seconds, but it makes a huge difference.
Use knee-highs to stop blisters – Not everyone likes wearing socks with flats, especially at the office, but blisters come with pain and embarrassment that are difficult to deal with while working. To prevent blisters, wear knee-high hosiery to keep your look refined while stopping unwanted friction in its tracks.
Opt for sheer hosiery to prevent chafing – Even if you weren't planning to wear hosiery with your outfit for the day, that doesn't mean you shouldn't have a pair ready inside your bag. Walking around in the summer heat can cause chafing between the legs where the thighs rub together, leading to discomfort very quickly. Putting on a pair of sheer hose won't change your look, but it will put an end to the chaffing issue.
If you're searching for the perfect pair of hose to incorporate into your wardrobe this summer, check out what we have in stock at Hosieree.com today. With the wide range of options we offer, you'll surely find the hosiery that's right for you in no time.